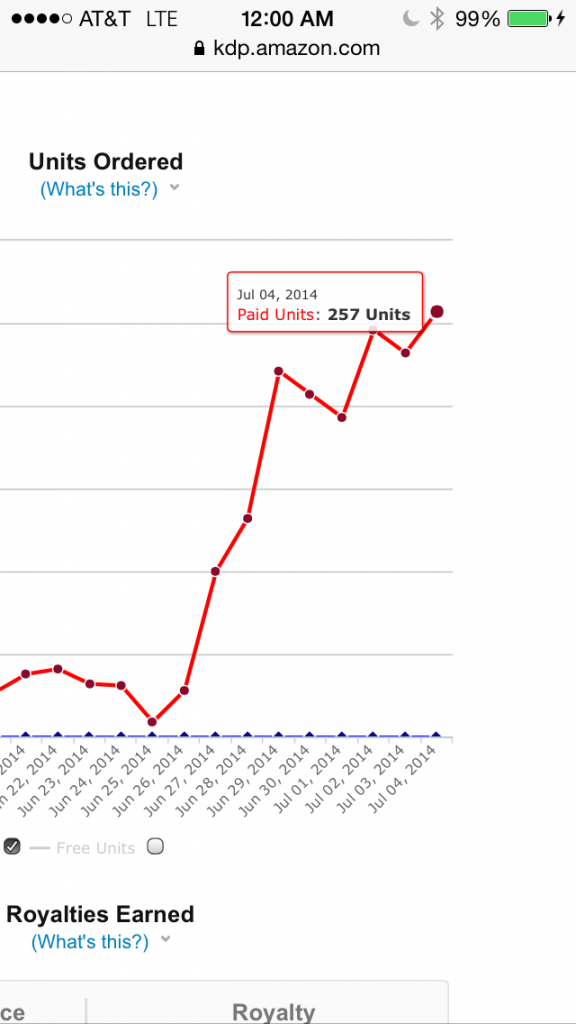 So if you follow this blog, you know a) I'm a huge proponent of Bookbub and b) I've been lucky enough to have them feature my books three times, the third being Friday June 27. I wrote about the first two times HERE and HERE. They were great. This third time literally is a game changer for me, and I want to tell you why, and, more importantly, how. But first, it's important to understand who Bookbub is and what they do.
Bookbub runs a free subscription book recommendation service featuring quality free and discounted ebooks. The emails are sent to people based on their expressed genre and ereader preferences (Kindle, Nook, iBooks, Kobo, Google Play, and Smashwords). Their email list is ungodly huge, and people follow their advice, more than any other recommendation/promotion service of its type, in my opinion.
While their emails are free, Bookbub makes its money by charging to promote the books it features. And they charge a lot. For my category, mystery/thriller, it costs $700 to promote a discounted book for one day and $310 to promote a free book for the same time period.
And it ain't easy to get picked. I've submitted my books approximately 20 times. Obviously, I got a lot of no's. Bookbub recently shared how they select their featured books HERE. On any given day, their emails feature NYT bestselling authors at the same time as indies on-the-rise. They're selective, but egalitarian.
It's important to understand that it may take an author years to build the type of credentials that leads to selection. Years of writing great books, promoting their books through other less exclusive promotion services, selling solid numbers of books, and building up a sizeable review count, as well as awards and other recognition. I haven't seen a discounted book promoted on Bookbub with less than 60 reviews in months; free books sometimes have less reviews, but, if they do, they make up for it with the credentials of the author and her previous books.
My first BookBub was a 99 cent discount run of Saving Grace, #1 in the Katie & Annalise series. Thanks to Bookbub, I made thousands of dollars, moved up to #134 on the author list on Amazon, and Saving Grace reached #7 overall on Nook and #34 on Kindle. It was amazing. And somewhat temporary. The sales fell pretty fast after a couple of weeks. Yet I think it would be fair to say it was a permanent small boost.
For my second Bookub, I discounted Leaving Annalise, #2 in the Katie & Annalise series, to 99 cents. Unfortunately, Bookbub and I crossed signals. I favor wide distribution for my books rather than Kindle exclusives. I had submitted the book that way, but when it came time for me to check that they were running it as such, I failed to do so, and they ran it only for Kindle. The promotion was thus far less successful than my first one. Still, I more than made my money back, and Leaving Annalise became a Kindle bestseller.
At the same time as my second Bookbub, I released Finding Harmony, #3 in the Katie & Annalise series. Around that time, I took notice of the tremendous success that some authors were having by making the first book in their series free, permanently. This strategy is called perma-free. It terrified me. Take the book that sold best for me and give it away, forever? Yet it made sense, too. SkipJack Publishing doesn't have the money to promote my books like I'm janet Evanovich. I have to become visible to readers some other way. If I can hook them on my novels with a first-in-series-free ebook, might they buy the others? And I now had two more in the series to sell, priced attractively at $2.99 and $3.99, plus I had a new novel for pre-order (everywhere but Kindle, because I'm not important enough for them to allow my pre-orders), Going for Kona, at $4.99. I could hope for generation of reviews, too.
I decided to go for it. Only one problem. Amazon doesn't allow you to set a price of zero, permanently, for an ebook. It does allow those in KDP Select to have up to five free days a month, but I wasn't going back to KDP Select, and I didn't want five days. I wanted forever. However, Kobo not only allows free books, it runs its own "first in series free" promotions, and doesn't charge a cent for them. (Thanks Kobo!!) Smashwords allows free books, and iBooks and Nook allow them through Smashwords aggregation. I set Saving Grace up free in all those spots, then I let people know that they could have it free anywhere but Kindle, and if they wanted it free on Kindle, they needed to "Report a Lower Price Elsewhere," and then we'd cross our fingers that Amazon would price math.
They did, after only 24 hours. (Yet I've had a short story free for four months, and they have still not price-match on it.)
I immediately applied for a free day promotion on Bookbub for Saving Grace, and got in. Meanwhile, I ran promotions with some of my favorite "smaller" promo sites, like Bargain ebook Hunter, Pixel of Ink, eReader News Today, and a slew of other free promotions that I found through my beloved Author Marketing Club.
Free downloads started immediately on all of the sites. By my free Bookbub day, I had 25,000 in downloads across my sales sites. My paid sales, however, had dropped precipitously in the few months prior. They had starting creeping back up after the perma-free strategy was implemented, but not much, yet. Thus, Leaving Annalise had a Kindle ranking of about 15,000 and Finding Harmony 25,000. I was selling about 200 ebooks a week across all sites, between those two books and my six nonfiction books, for total revenue of about $400 a week for ebooks. I also sell print and audiobooks, at that time about 30 per week.
My husband and I got in the Bookmobile—our book touring RV—and left on the 27th for our Redneck Writer Road Trip tour, right when the Bookbub emails went out.
Let me make a long and incredible story short. Saving Grace went to #2 in free books on Kindle and stayed in the top 20 for a week. Across all sites, we had 110,000 downloads during that time. Awesome, right?
It gets much, much better.
Sales picked up by the end of the 27th for Leaving Annalise. By the end of the first week, its rank was up to 846 on Kindle. Finding Harmony rose to 1562. My author rank soared to 1120. I'll take those numbers any day of the week. But what it meant in terms of sales and reviews is the real story.
In the first week after Bookbub, I sold 2492 ebooks and generated royalties of over $4500 dollars, on a $310 promotion. Well, a $310 promotion, years of writing, and 2.5 years of promotion and base building :-), things you can learn about, if you want, in my book What Kind of Loser Indie Publishes, and How Can I Be One, Too?. And those sales are on books I didn't promote!  Sales ran as follows For every 1 book I sold on Google Play, I sold 2 on Kobo, 13 on iBooks, over 25 on Nook, and over 70 on Kindle (and 0 on Smashwords). As I write this on day eight, sales continue to rise. So do reviews. I have received 70 new reviews in one week. Most of them are on Saving Grace, but that's what I wanted. I want people to have no reason not to download my free series lead and get to know my work. I'm counting on a solid fraction of those downloads to continue to result in purchase of my other novels.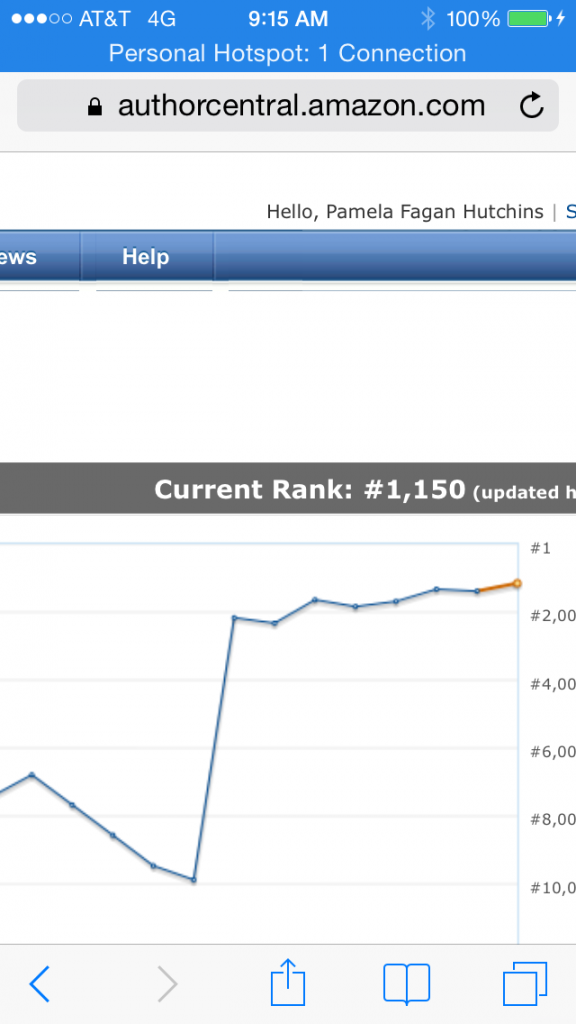 And the free downloads continue, too. While I wait for the 135,000 that have already downloaded Saving Grace since June 1 to get around to reading it and deciding whether to keep going with me, more people download it. Sweet!
One big surprise: the sale generated a large number of audiobook purchases, mainly because Amazon allows a $1.99 add-on of audio to an ebook download, even if the ebook is free. So 175 people have downloaded audio this week too. The only category of sales not yet impacted is print books, but I didn't expect it to be.
The great unknown? How many buyers in the last week ordered my upcoming novel. I guess I'll know October 1st, and of course I'll share it here.
My takeaway from this experience is that the perma-free strategy is a sound one for multi-title novelists trying to generate visibility, reviews, and sales of their other books, and that a BookBub promo of that perma-free book can be a game changer.
Like it was for me.
I will keep you posted on ongoing sales, as the long-term impact of the promotion is not yet tested. However, I'm pretty hopeful for a longer range impact given the number of copies of Saving Grace sitting on people's ereaders, ready for them when they have the time to open it. And if sales start to falter, I can guarantee you it is free downloads of Saving Grace that I will promote, as those efforts are exponentially effective–not my other books. In fact, I can't wait to release my next series, and hope that this strategy remains viable, because my big regret is that I didn't have more novels to sell the people that wanted to keep going.
So tell me: have you tried a perma-free strategy? How did it work for you? How did you sustain your sales with it?
Pamela Fagan Hutchins, President of Houston Writers Guild, is an

employment attorney and workplace investigator by day who by night writes award-winning and bestselling romantic mysteries (Saving Grace, Leaving Annalise, Finding Harmony) and hilarious nonfiction (How to Screw Up Your Kids, What Kind of Loser Indie Publishes?, and others). She is passionate about great writing and smart authorpreneurship. She also leaps medium-tall buildings in a single bound, if she gets a good running start. Visit her website http://pamelahutchins.com, or follow her on Facebook http://facebook.com/pamela.fagan.hutchins.author.