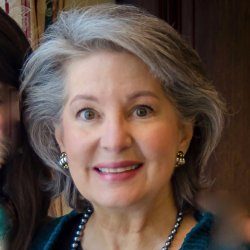 Gay Yellen has been sneezed on by an elephant, held at gunpoint and survived a killer California earthquake, which may explain her penchant for writing cliffhangers. She began working life as a stage and TV actor, then moved behind the camera at The American Film Institute (AFI) as Assistant to the Director of Production. A former magazine editor and national journalism award winner, she was contributing book editor for Five Minutes to Midnight (Delacorte), an international thriller.
Her Samantha Newman Series of romantic mystery novels includes The Body Business (a RONE finalist) and The Body Next Door:
2017 WINNER Readers' Favorite Mystery
2017 FIRST PLACE Chanticleer Mystery & Mayhem
2017 FINALIST Silver Falchion Mystery
2017 CROWNED HEART InD'Tale Suspense
2017 RONE Nominee Romantic Suspense
Gay lives in Texas. She loves connecting with book clubs and community groups in person and online. You can contact her through her website, http:/GayYellen.com.