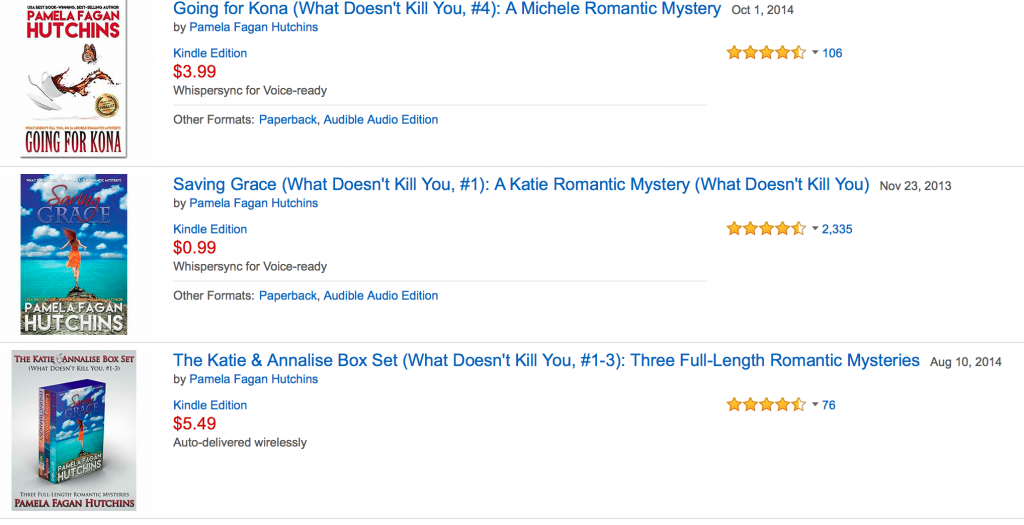 Online reviews are EVERYTHING for the sale of indie books. I focused almost exclusively on reviews as a marketing strategy when my first novel, Saving Grace, was published. Three and a half years later, it has more reviews (2300+ with 4.3-stars) on Amazon than Janet Evanovich's One for the Money (the book it's most often compared to). And it has now done 1.2 million downloads. And I've quit my job as a lawyer.
The question is, without big publishing behind you, how do you get the reviews? Note that I have only 2300 reviews over 1.2 million readers for Saving Grace. The percentage of people that leave reviews (and that Amazon in its sole discretion doesn't pull down) is small. So the biggest thing you can do is find readers. Not buyers, necessarily. Readers. Readers who may leave reviews.
In the image above you can see that my box set including Saving Grace gets far less reviews than the individual book itself. And my other novels, which haven't yet had the phenomenal success of Saving Grace, don't have as many reviews yet (although I'm still proud of Going for Kona's 106).
Also, please keep in mind that I'm talking about HONEST reviews, and that your encouragement to others to review your books should always make it okay for them to rate and write what their heart tells them to. Your chances of success go up 10,000% if you are always kind, appreciative, and willing to help others as much as they're helping you—or more.
I'm about to run an online class on exactly this topic, so stay tuned, but in the meantime, here are 10 tips to get you started.
*Note* Sometimes reviewers shy away from reviewing books that they cannot leave good reviews for. If you try the suggestions below and still get no traction, consider consulting a developmental editor. If you get bad reviews, I recommend you read my blog on The Good in Bad Reviews.
1. One school of thought is to buy them. And certainly there are many sources for paid reviews. They just lack credibility, except for one: Kirkus Indie reviews indie books for a hefty fee (check site for current pricing). They require a good bit of lead time for this price: 7-9 weeks. They expedite (3-4 weeks) for an up charge. It doesn't carry quite the panache of Kirkus for the non-indie world, but it's still solid.
Yet pricey.
(Foreword has a service, too, where you pay for the POSSIBILITY of a review. Don't bother. Really.)
You can ask Kirkus not to publish it if the review comes back unfavorable. Kirkus is well known for flaming reviews. If you do authorize them to publish it on their website, they will push it to their partners, like BarnesandNoble.com. They may even choose to publish it in Kirkus Reviews, their REAL, BIG-TIME reviews publication. If they do, you should buy a bottle of champagne, Dom Perignon, not Cook's. You've just won the indie publishing review lottery.
2. Another good way to get reviews is to solicit book blogging reviewers directly. But first you have to find them. The Indie Book Reviewer is a good source. I list tons of others in my book, What Kind of Loser Indie Publishes, and How Can I Be One, Too? 
Be sure that you approach the reviewers in the same way you would query an agent.
Go to their website. Are they open for submissions? Does your book fit their interests/genre?
Submit in the form specified on their website.
Describe your book in a compelling manner, as you would in a pitch or query to an agent. There are good examples of how (and how not) to do that, at The Query Shark.
If a reviewer says yes, then work to promote the heck out of their review site upon publication. They've scratched your back. Now scratch theirs. Even if you don't like the review, it is "press," and all press is good press. Don't forget to ask them to post some or all of it on Amazon.
Never, ever, ever pay one of these reviewers. Kirkus, yes. Indie reviewers, no.
Solicit as many as you can. To maximize their "buzz" impact, try your best to time the reviews to come out within a two week or one month window. However, you can't dictate to a reviewer when reviews are posted anymore than you can dictate what the review says. Best to start three months in advance and then you can sweetly suggest a time frame that is optimal. They're likely to work with you if you've given them adequate advance notice.
Expect that some reviewers have alternate vehicles for exposure on their sites, like author interviews or guest posts. Say yes if they offer, even if they say no to reviewing your book.
Some like to have you do a giveaway in conjunction with their review. Say yes, as it increases readership of the review.
Some like to do a cover reveal for you. It's a good idea, so think about it.
Expect to get 8 no's for every 10 you send out. These indie bloggers are busy, too, like you.
Don't want to hassle with this? Consider a blog tour, like Lone Star Literary or Pump up Your Book. You pay them to administer the process.
3. Run free or discount promotions. I get tons of reviews when my book is featured on Bookbub, for instance. If you apply for Bookbub and aren't selected, keep trying. In the meantime, work your way up the ladder of promotions. They'll all yield reviews, if readers like your books. Permanently-free books can really clean up in reviews with this method. I ran Saving Grace free for eighteen months, for example.
4. When your book is released, offer it free to all your contacts in exchange for a review. Marcy McKay had great success with this strategy when she released her debut novel, Pennies from Burger Heaven. She offered it free for a limited time in an email to her 1200 blog subscribers, and had amazing response and reviews. User Book Funnel to administer this giveaway and set a time limit on the download to increase the urgency for readers. Understand that the people closest to you may be the ones least likely to review your books, and make that okay.
5. Promote through Author Buzz. If you've got the bling, that is. They're pricey, and it involves giving away books (print). But they allow you to send short notes to their incredible lists of power readers, and you can request the reviews directly in them. I've had good results with them.
6. Run giveaways. Run a giveaway on your blog and make leaving a review a condition of entry. Run a giveaway on Goodreads to encourage reviews left there (I enclose letters when I mail the books, asking for them to leave an honest review). Run a giveaway on Amazon to encourage follows, and request the honest review from the winners. These aren't guarantees, but they work sometimes, and they have other positive benefits that make them worth the effort.
7. Mine the reviews of books similar to yours on Amazon. Many top reviewers have contact information within Amazon. Click on their name in a review they've left, and track them down. I've had incredible success with this method.
8. Another way an indie author can get reviews is to invite social media contacts to write and post reviews on their blogs, sales sites, or other social media venues.
9. Ask for a review at the end of your books. Yes, right there in black and white for everyone that reaches 'the end' to see.
10. Finally, approach contacts in the media to review your book in a periodical.
I have a contact who writes for what I consider the PREMIER magazine on ADD/ADHD, ADDitude. I went to her directly and asked nicely for a review. Click here to see the review of The Clark Kent Chronicles.
You're more likely to get a yes if you send the request in conjunction with an event in their geographic area (for local publications), or if you've done something truly newsworthy to their readership—writing a book isn't newsworthy, sorry/
You won't always get a yes. I asked four books in a row with The Houston Press. The silence was deafening. Until they did one better and named me to their Top Ten Authors list. Moral of the story: don't give up.
(Want to read more on the important topic of reviews? I recommend How to Get Your Book Reviewed, by Christine Nolfi, on the super blog of Molly Greene: Writer.)
That's all I've got. What works for you?
Pamela
Pamela Fagan Hutchins, winner of the 2017 Silver Falchion award for Best Mystery (Fighting for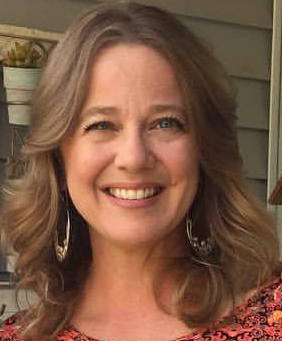 Anna), writes overly long e-mails, hilarious nonfiction (What Kind of Loser Indie Publishes, and How Can I Be One, Too?), and series mysteries, like those in her What Doesn't Kill You world, which includes the bestselling Saving Grace and the 2015 and 2016 WINNERS of the USA Best Book Award for Cross Genre Fiction, Heaven to Betsy and Hell to Pay. You can snag her newest release, Bombshell, if you've already run the rest of the table. She teaches writing, publishing, and promotion at the SkipJack Publishing Online School (where you can take How to Sell a Ton of Books, FREE) and writes about it here on the SkipJack Publishing blog.
Pamela resides deep in the heart of Nowheresville, Texas and in the frozen north of Snowheresville, Wyoming. She has a passion for great writing and smart authorpreneurship as well as long hikes and trail rides with her hunky husband, giant horses, and pack of rescue dogs, donkeys, and goats. She also leaps medium-tall buildings in a single bound (if she gets a good running start).