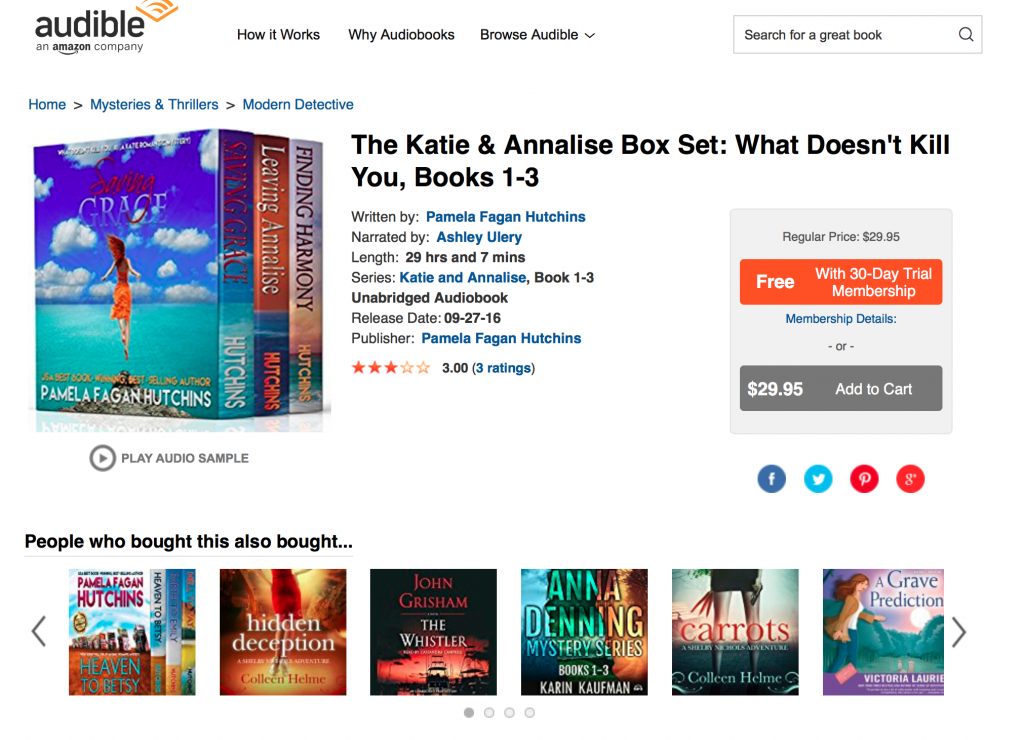 I can't believe it took me three years to figure out that I was underutilizing the audio files created by talented narrators for my books.
I'd used them as samples on my website, explaining Audible's bounty program (they get their first purchase free; I get a $50 bounty I split with the narrator if my book is their first purchase) and encouraging people to click the link to the book and make it their first purchase as a subscriber. [By the way, if you haven't tried audiobooks, you're missing out, big time. I listen to them while I cook, clean, walk, and even sometimes while I bathe or shower. L-O-V-E them.]
But I write a series, for goodness sakes. And the audio files for each individual book already existed. We (the narrators and I, with whom I had 50/50 royalty split agreements) owned the files. We could reuse them for whatever we wanted. What, though, would that be?
Helloooooo, I got a BookBub for my Katie Box Set, which includes the first three books of the series. I'd learned in earlier BookBub promotions that readers like to do audio add-ons so they can seamlessly move between ebook and audio. This is an especially good deal for them when the ebook deal is "free" and Audible/Amazon is offering an "audio companion" for $1.99. Even at 99 cent for the ebook, this audio companion is a fantastic deal.
So we thought about it. How could we get the audio files from the three individual Katie novels from the What Doesn't Kill You series compiled into an audio box set in time for the BookBub? We realized that we couldn't. We'd gotten smart too late. Even if we could have, usually Audible/Amazon doesn't move an audiobook to "audio companion" status for weeks or months after release of the audiobook. We missed an opportunity to earn more money on BookBub promotion, but we'd realized a gap in our monetization strategy.
Because the buyers of individual novel audiobooks and the buyers of the box sets (multi-novel audiobooks) aren't always the same. Some people really love LONG recordings and the price break they get on them. Less choices to make. More immersion into an author's world. It's like with the ebook box sets: we don't get a price for the box set equal to the sum of the individual novels. But we do get a lot more, and we encourage buying multiple books at once, which is key. If someone enjoys a PFH audiobook, that's no guarantee they'll remember to buy another the next time they're making purchases. What if a great deal or a recommendation intervenes? The bird in the hand, baby. The bird in the hand.
We had a problem, though. The narrator for the Katie books hadn't saved her audio files. But guess what? The narrator and the author can download the files of published books through their ACX logins. Woo hoo! The files were soon in our hands.
We put the box set up for auditions, because we wanted to give ACX a chance to approve the box set for the stipend, which means upfront money for the narrator. ACX never says why they do or don't pick an audiobook for their stipend, but they do favor longer books. We hoped, we prayed, we waited, but they didn't give us the stipend. (I've sold nearly 8000 audiobooks. That may not be a bank breaker, but it's fairly significant. My books have thousands of reviews with over a 4.5-star rating. What does it take to get these dang stipends????) So our narrator uploaded a random file as an "audition," we issued an offer, and she accepted. Then she immediately uploaded her files, we uploaded a cover file, and we submitted it to ACX. Note: the narrator did have to record some new intro, transition, and ending files, but that was no big deal.
Two weeks later, we had a new audiobook!! And not only that, but in the meantime, we put together the audiobook for the Emily Box Set. It was released by ACX as well. They sent us the normal 25 free audiobook codes for each, which gave us something for giveaways and promotions.
The pricing incentivized the multi-audiobook purchase we were looking for. The individual novels ranged from $19.95 to $24.95 (or $1.99 as ebook purchase "audio companions.). The box sets cost $29.95. For readers that would have purchased the books individually, we obviously pass up some money with their purchases of the box sets. But for readers who wouldn't have bought any of the novels, or would have bought one and forgotten about the others, we make out like bandits.
So how have sales gone in the first month? 44 Emily Box Set and 38 Katie Box Set. The income trendline is slightly up. Equal to or greater than is a win, since even at "equal to" what it means is more listeners/readers, and more potential reviews plus the possibility of more sales down the road for my future novels/audiobooks. Plus all those free audiobook codes to use for promotions.
Phew. Can't believe we missed this monetization opportunity. I'll report back if anything significant changes.
Pamela
Pamela Fagan Hutchins writes overly long e-mails, hilarious nonfiction, and  series mysteries, like Katie & Annalise which includes the bestselling Saving Grace, and Emily which she kicks off with the 2015 WINNER of the USA Best Book Award for Cross Genre Fiction, Heaven to Betsy. She resides deep in the heart of Nowheresville, Texas and in the frozen north of Snowheresville, Wyoming. Pamela has a passion for great writing and smart authorpreneurship as well as long hikes with her hunky husband and pack of rescue dogs, traveling in the Bookmobile, and experimenting with her Keurig. She also leaps medium-tall buildings in a single bound (if she gets a good running start).