By Candi Fite, SkipJack Publishing Assistant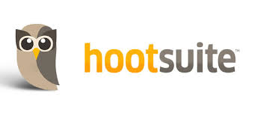 As a publishing assistant—whose main focus is publicity, promotions and marketing, a mother, wife, writer, artist, part-time yoga instructor, and volunteer, a busy girl's gotta do, what a busy girl's gotta do. Anything to simplify my life. Enter Hootsuite, aka an assistant's assistant.
Let me give you a brief explanation of what Hootsuite is and the benefits of using it.
Hootsuite is referred to as a social media management tool. It allows you and/or your team member(s) the luxury of scheduling, posting, managing, and monitoring your many social media platforms all at once, and from one location. Yes, it's that simple. Trust me when I say this, if I can learn to use Hootsuite, anyone can. And I'm quite certain, I've only begun to discover and tap into its social media posting power.
Hootsuite's 50/50 Intellect Requirement: For me, using Hootsuite is a 50/50 mix of left-brain/right brain tasks. For those who know me and my highly artistic way of thinking, this presented a challenge. Naturally, I'm 75% right brain and 25% left brain. But alas, Google and YouTube are my new BFFs. We chat over lunch. We cry together. We laugh together. And along with Hootsuite, we've learned together.
To Hoot or Not to Hoot: It's all a personal preference.
Do you post on social media?
More than 1 social media platform?
Are you bogged down with keeping up with monitoring your social media?
Do you want to save time for little or no money?
Do you want to free up your schedule to work on other tasks? Writing?
If the answer to each of the questions above is yes, keep reading. If the answer is no, you can skip down to the bottom and read my quirky bio. J
Free Plan or Professional Plan:
Free Plan is perfect for individuals who want to start managing multiple networks, schedule content, and engage with their audience—all in one place. https://hootsuite.com/plans/free
-Keep in mind, the free plan only allows up to 3 social media profiles.
-And you do not have the bulk scheduler tool as described below. You can still schedule future posts, but not in a bulk format.
Professional Plan is for individuals who manage multiple social media platforms and want more options than the free plan allows, or entrepreneurs / small business owners. Cost starts at 9.99/month. https://hootsuite.com/plans/professional
-This plan has all the same perks as the free plan, but allows you to have up to 10 social media platforms + a few other options.
-Keep in mind, the more team members you have with this plan, the more it costs.
-The best feature is the bulk scheduler tool, as I describe below.
How to send out bulk Hoots: Here are simple steps to creating your CSV file for the bulk scheduling tool in Hootsuite.
If you work in Google Drive, it's easy. Open a new spreadsheet. After creating, you'll download as a CSV file. *Make sure NOT to open the file. Just download, and then upload to Hootsuite. Opening the CSV file changes the format. If working on your desktop, create as spreadsheet and "save as" a CSV file, but again, don't open it once saved to your desktop.
Column A: Date and time (required) I write mine like this: 1/25/2017 11:00 AM (but you can use any of the formats below), then if I want to post every day @11:00 am, I click on the corner of the A1 box and drag down for every day I want to post. I like to keep my bulk uploads to around 7-10 days. I find it easier to manage.
Both date and time in one of these formats:
-Day/Month/Year Hour:Minute
-Month/Day/Year Hour:Minute
-Year/Month/Day Hour:Minute
-Year/Day/Month Hour:Minute
Also:
-Date and time must be in the future, at least 10 minutes from upload time
-The time should end with a 5 or a 0. For example, 09:15 or 09:20.
-Duplicate messages are not allowed. Change at least one word.
-Twitter: There is a limit of 140 characters. Using a link will limit the message to 116 characters.
-There is a limit of 350 messages across all social networks per bulk upload.
-Choosing more than 1 social network will reduce the number of rows allowed in your CSV. For example, choosing 5 social networks will reduce the maximum CSV rows to 70.
Column C: Link (optional)
After you've created your CSV file and opened the bulk scheduler in Hootsuite, you'll upload the file from your computer, select which social media platforms you want it to post to, review your messages—checking for errors, and schedule. Then, if you want images attached, you'll need to go back in and edit each message individually. If you've used a link, it'll pull up an image from the link, so you can delete it and add your own image to the post. Make sure to save your edit after you've added your images. J
So, if you need assistance in managing your social media, you might check out Hootsuite.
Candi Fite, SkipJack Publishing Assistant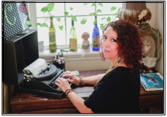 As there are two sides to every story, there are two sides of Candi's creativity. Over the years, she's crafted poetry, short stories, a children's picture book, and her most recent work, is a humorous Cozy Mystery. She wrote her first poem when she was ten about her baby sister who was fascinated by her own toes.
As a self-taught mixed media & abstract expressionist artist, Candi relies on her free spirit and her passion to express herself to guide her through the intuitive process of creating art. Inspired by the beauty and architecture of nature, she uses her hands, brushes, and her beloved metal pie server, as she layers, textures, builds, paints, and allows each piece to happen organically.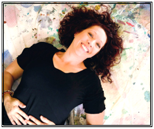 Her hopes are that her artwork connects viewers with their own emotions and provokes deep feelings, and her stories not only entertain, but also make her readers laugh.
Follow her: @gypsychickart on Facebook and Instagram, Candilynn Fite-Writer on Facebook. 
You can pick up a copy of Little Acorn's Big Fall, a Children's Picture Book, on Amazon. How to Leash a Thief (A Steely & Cuff Mystery #1) is due out in early 2017.