I recently discovered a new-to-me service that allows me to give my ebooks away easily, both to me and the recipient. Gone are the old days of individually emailing files and patiently explaining and re-explaining the different file types and how to transfer them to devices, apps, and elsewhere, only to have the emails bounce because my files were too big to go through. Gone are the days of download links on Dropbox (and the same patient explanations and re-explanations). Gone are the days of email strings ending like this one:

Enter BookFunnel.
BookFunnel administers the process of giving away books, for a nominal fee. How large a fee? See below: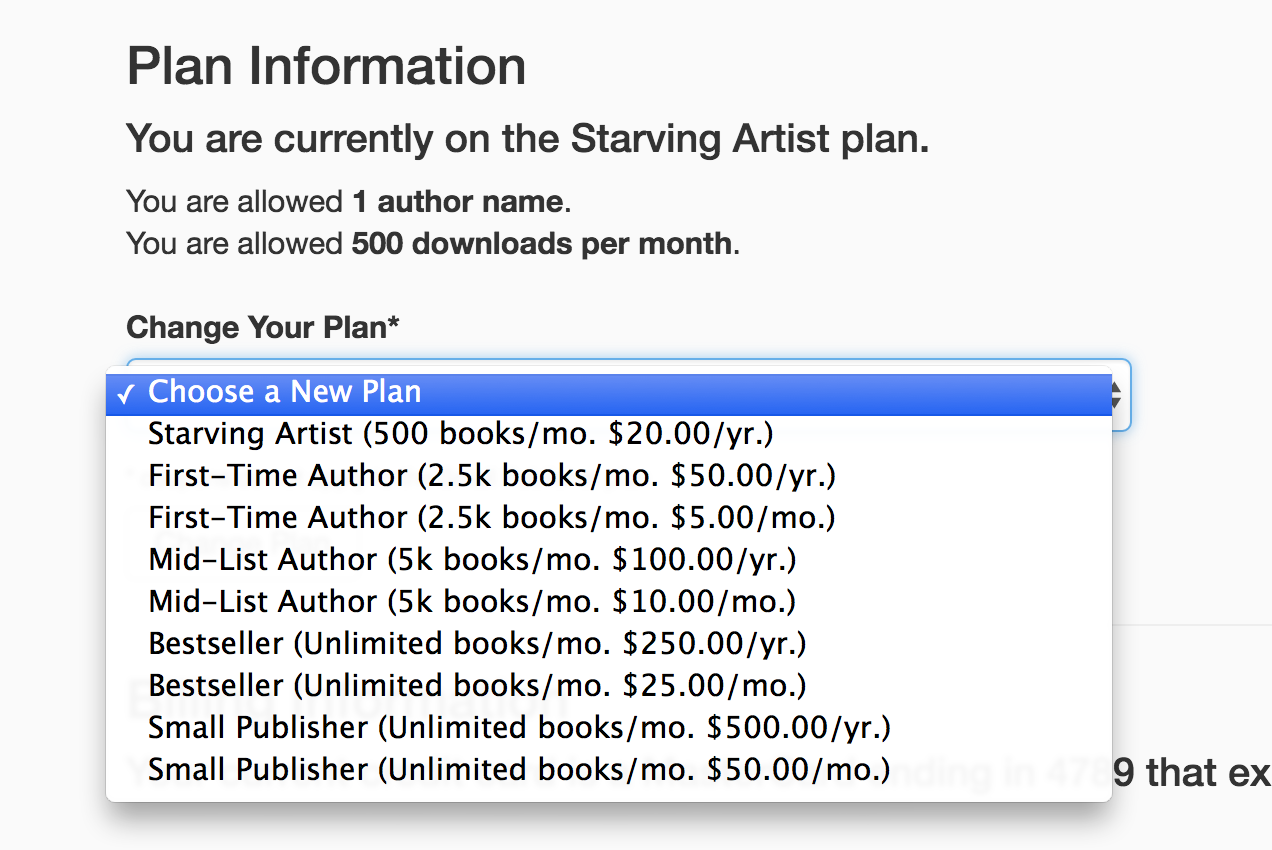 Now, I give away a lot of ebooks. Nearly one million at last count! But most of them are given directly through the sales sites. Thus, I don't need BookFunnel for those. What do I need it for? Advance readers, reviewers, and for give-aways to incentivize subscription. Right now I'm on the Starving Artist plan. I aspire to upgrade to the next level if I can increase subscriptions enough (I'll blog about increasing subscription some time in the future–right now I'm in the process of pulling levers and pushing buttons to see how to maximize my own). And if I wasn't utilizing the sales sites to push my free books, I'd need the Bestseller category. But I want to push my free books through the sales sites, to keep my rankings up, and to optimize my chances for reviews of the ebook on that site.
BookFunnel is easy to use. Here are the data input pages: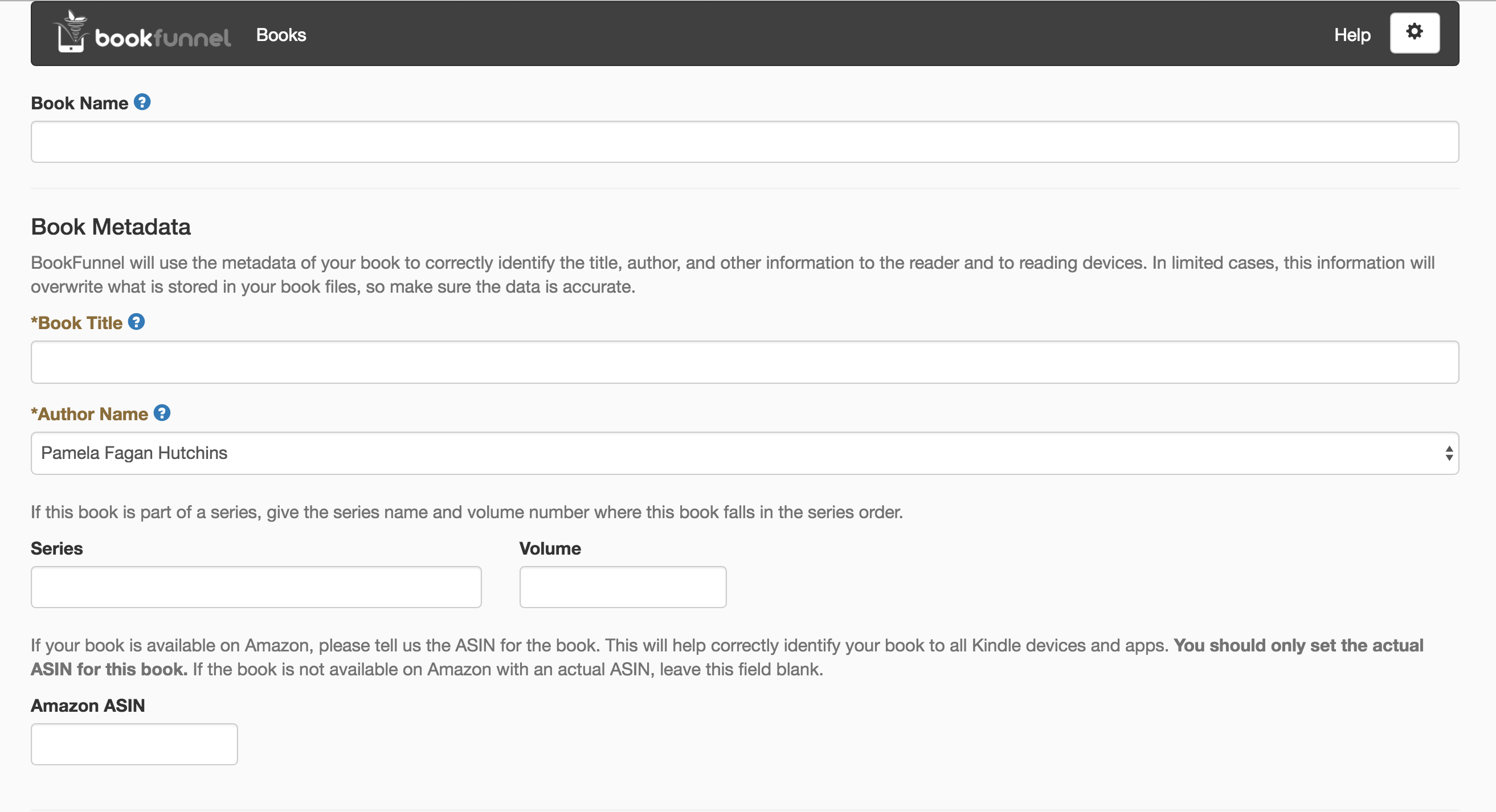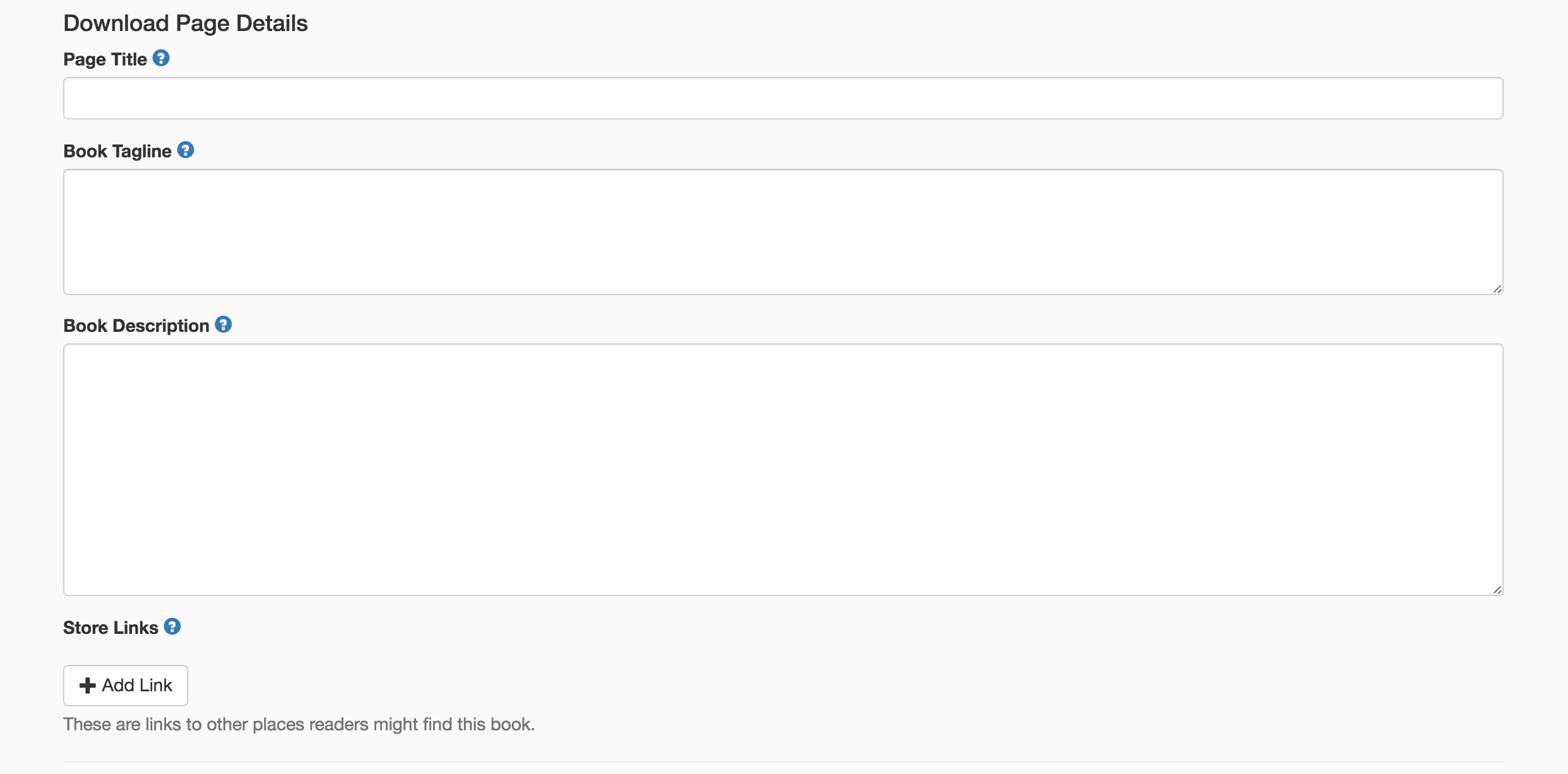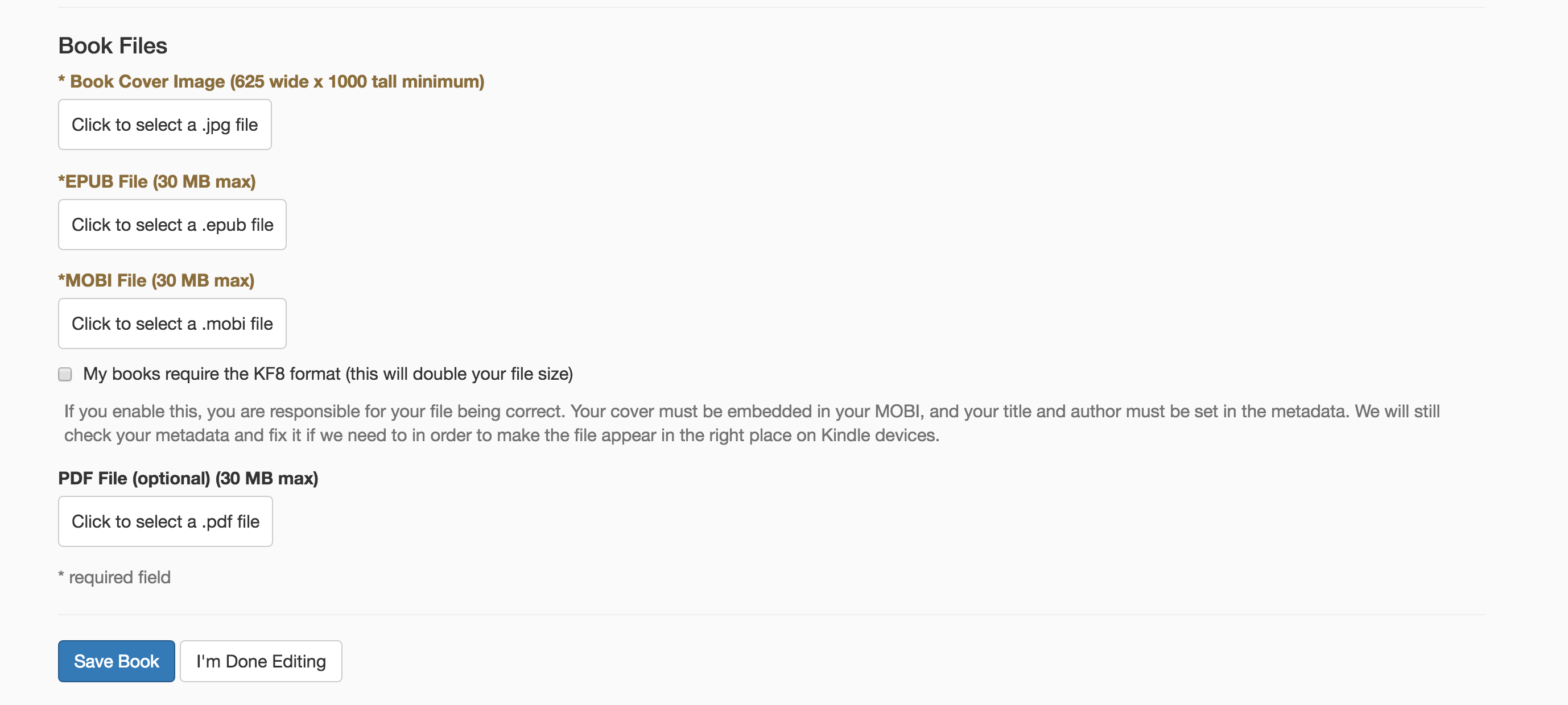 Not too bad, is it? You just come armed with your basic files (cover, mobi, epub, and pdf) and information (description, ASIN, sales link, title/series) and upload them. When you're ready to generate a link for users, you click the link icon on your Books page (of Books you've added):

Then fill in the blanks: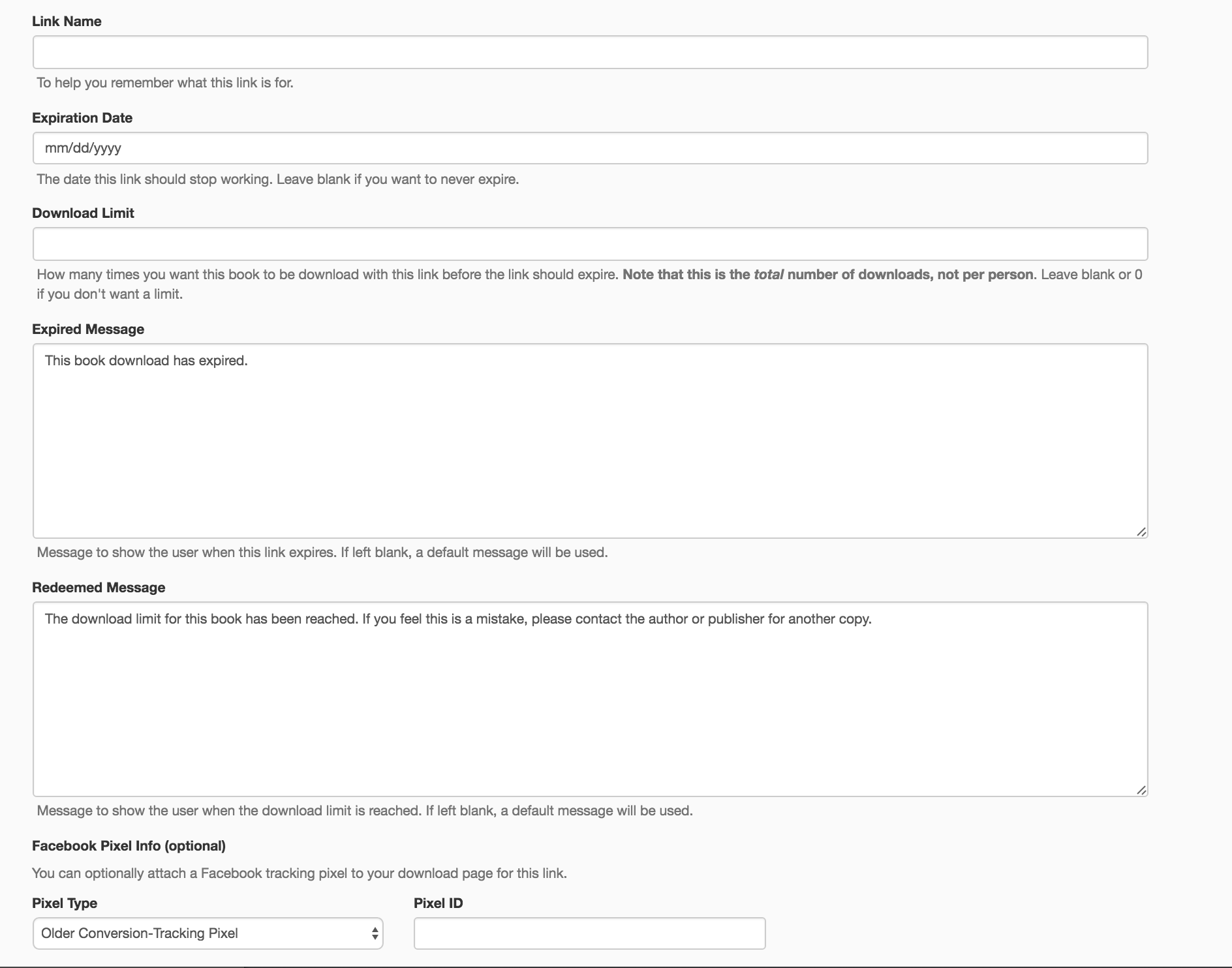 Choose parameters like expiration date and download limit, with messages to potential readers to go with each condition, and even attach Facebook tracking information, if you're going social with your link.
When you're ready to share the link with potential readers, you retrieve your link either right after the creation, above, or by accessing your book's BookFunnel page, where it will look like this:

Send that link to your users. For my Hell to Pay advance readers, I did that by email. With my subscribers, I do it via a Mailchimp welcome message after they subscribe. However you send it, you'll see pages like this one: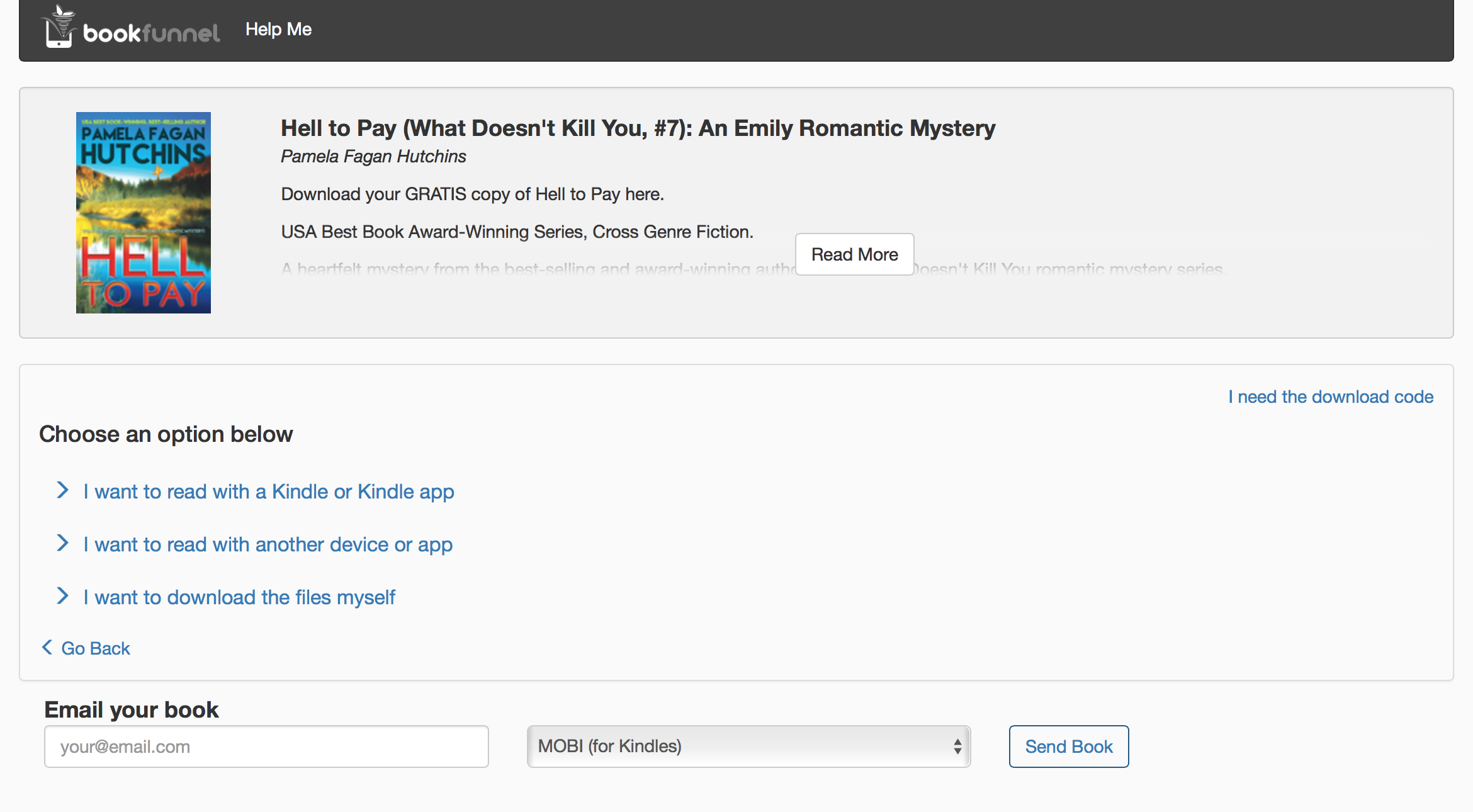 I chose the first option: Kindle or Kindle app, and got this: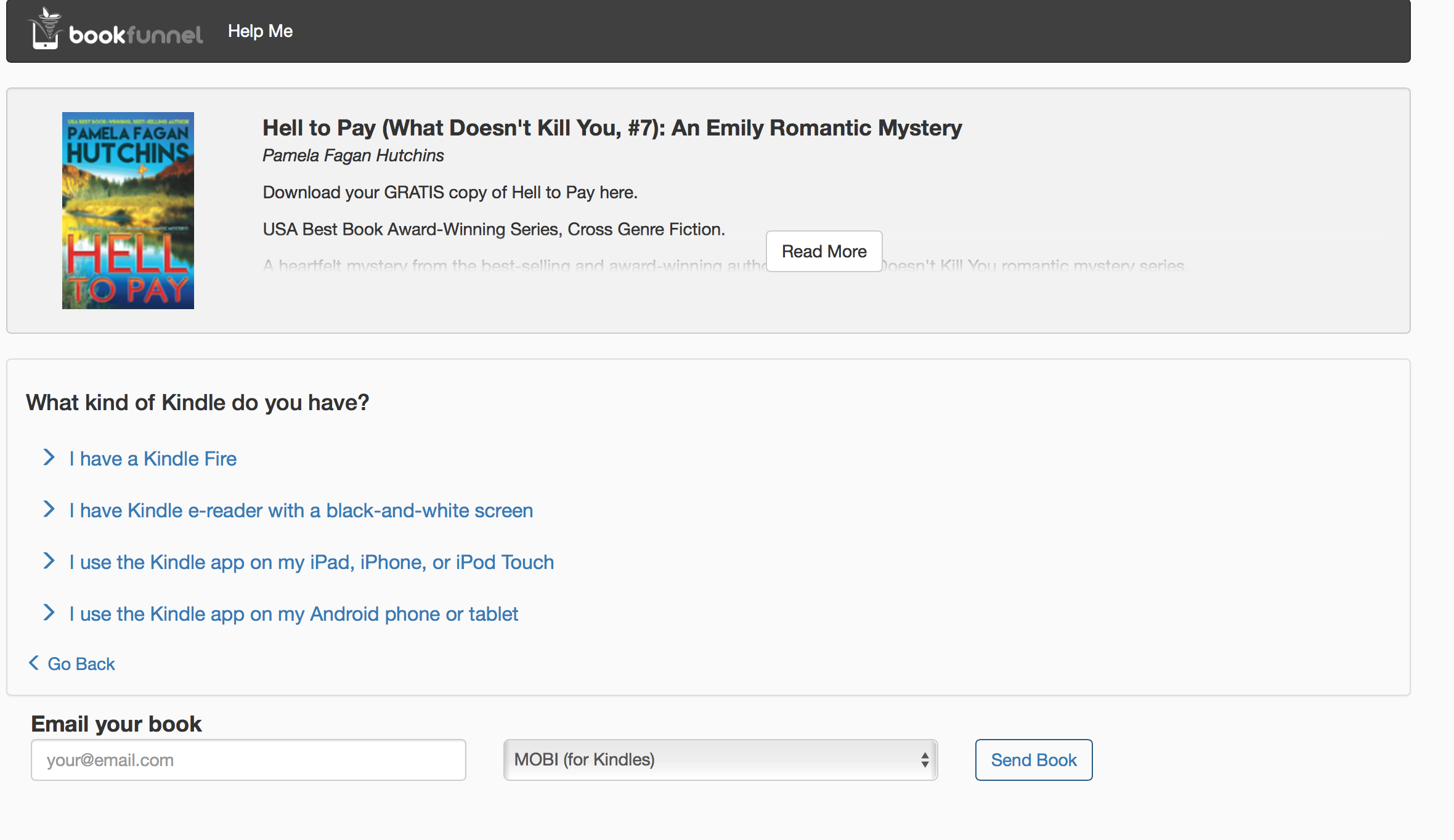 And then I chose Kindle Fire and voila got this: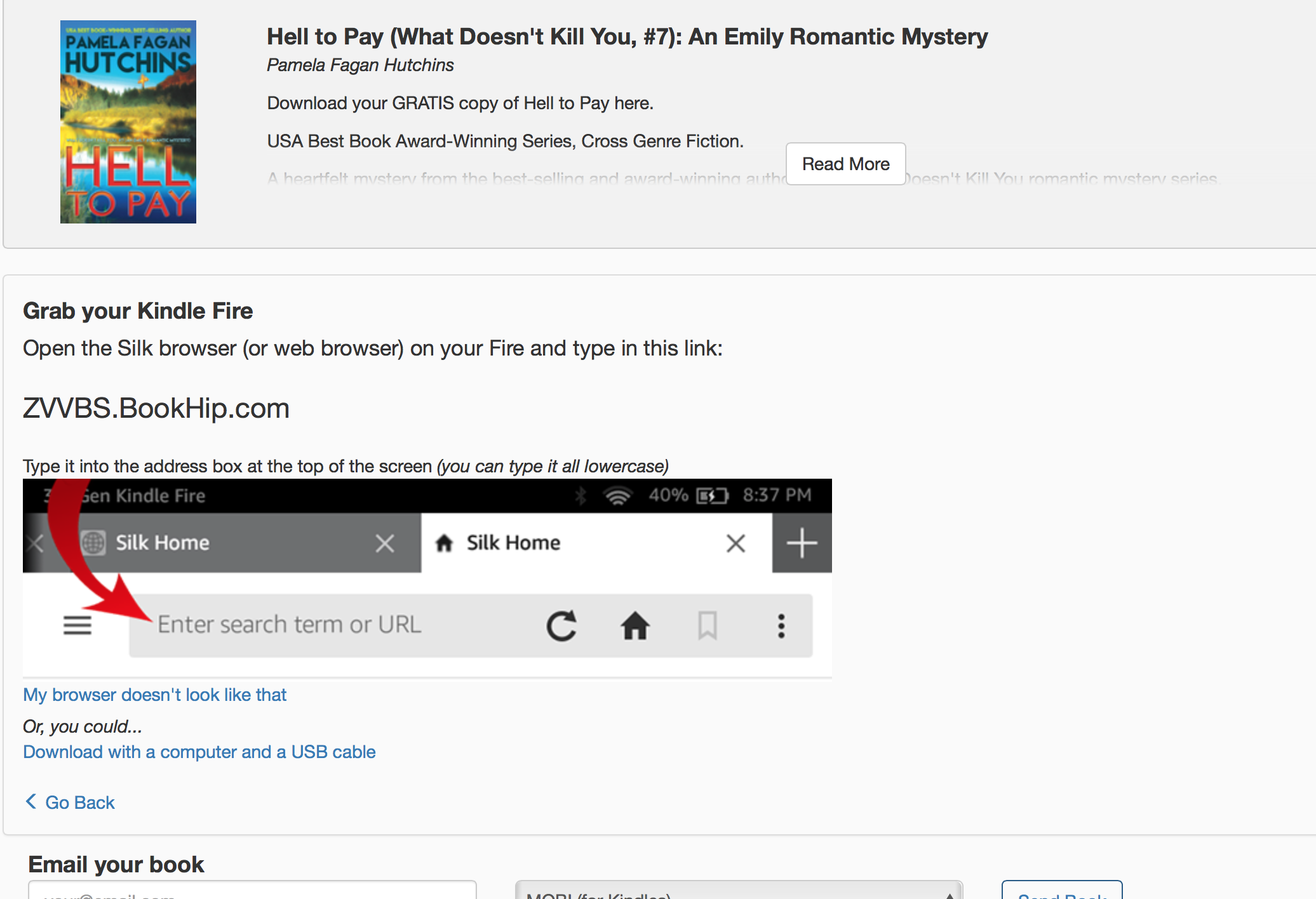 And when I followed these instructions, I got this: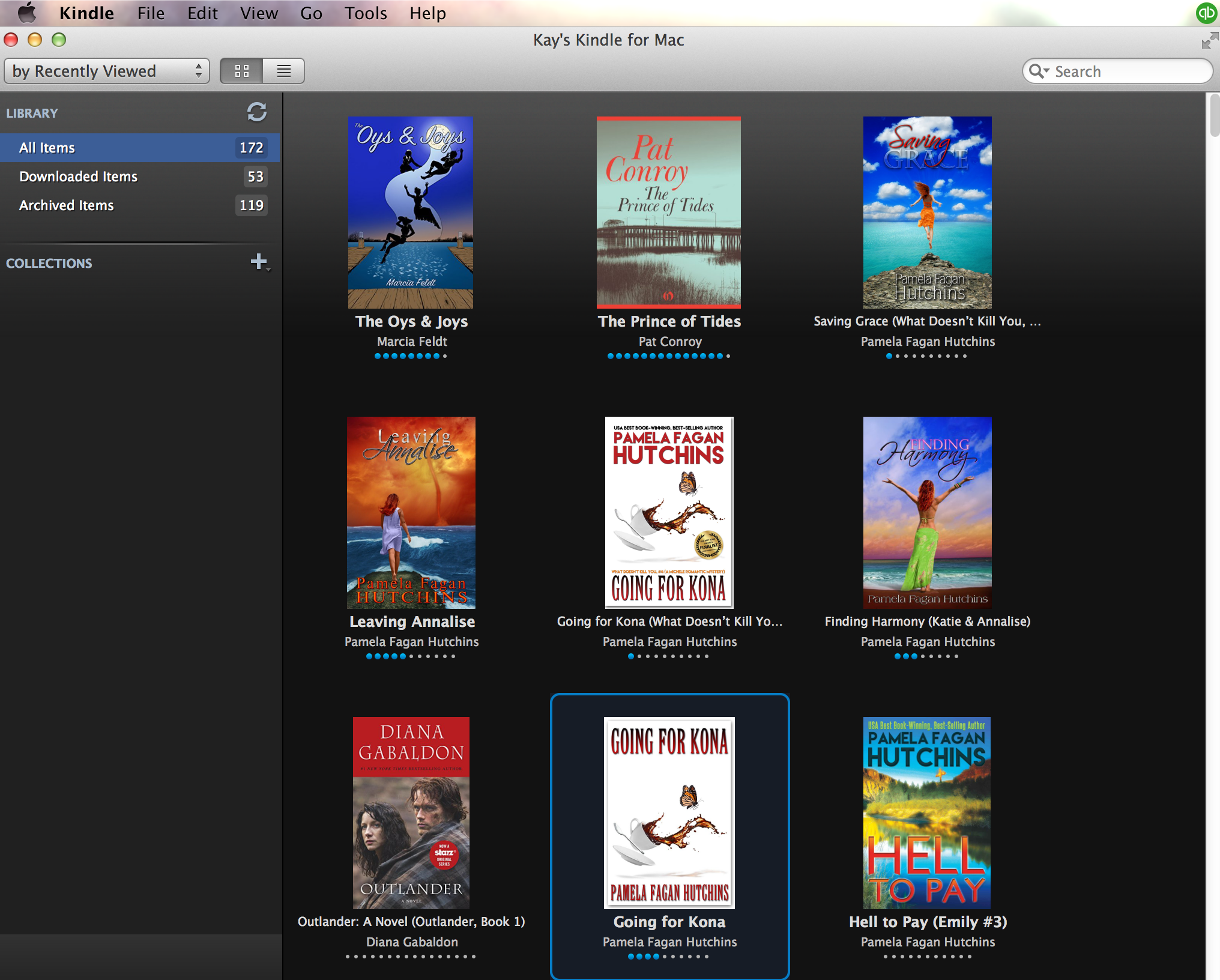 Can you tell I've been checking content on some changes in my ebooks, LOL? But there's Hell to Pay in the lower right corner. Easy peasy.
When I sent this to my Advance Readers for Hell to Pay, I even got this:

Which has never happened in the history of ever when I've sent out free files. And what I didn't get? Not a single bounce or email telling me people didn't know what file type to pick or how to get it where they could read it. Hallelujah!! And I can look at stats to see how many downloads have occurred versus simply viewed, and the "conversion" rate: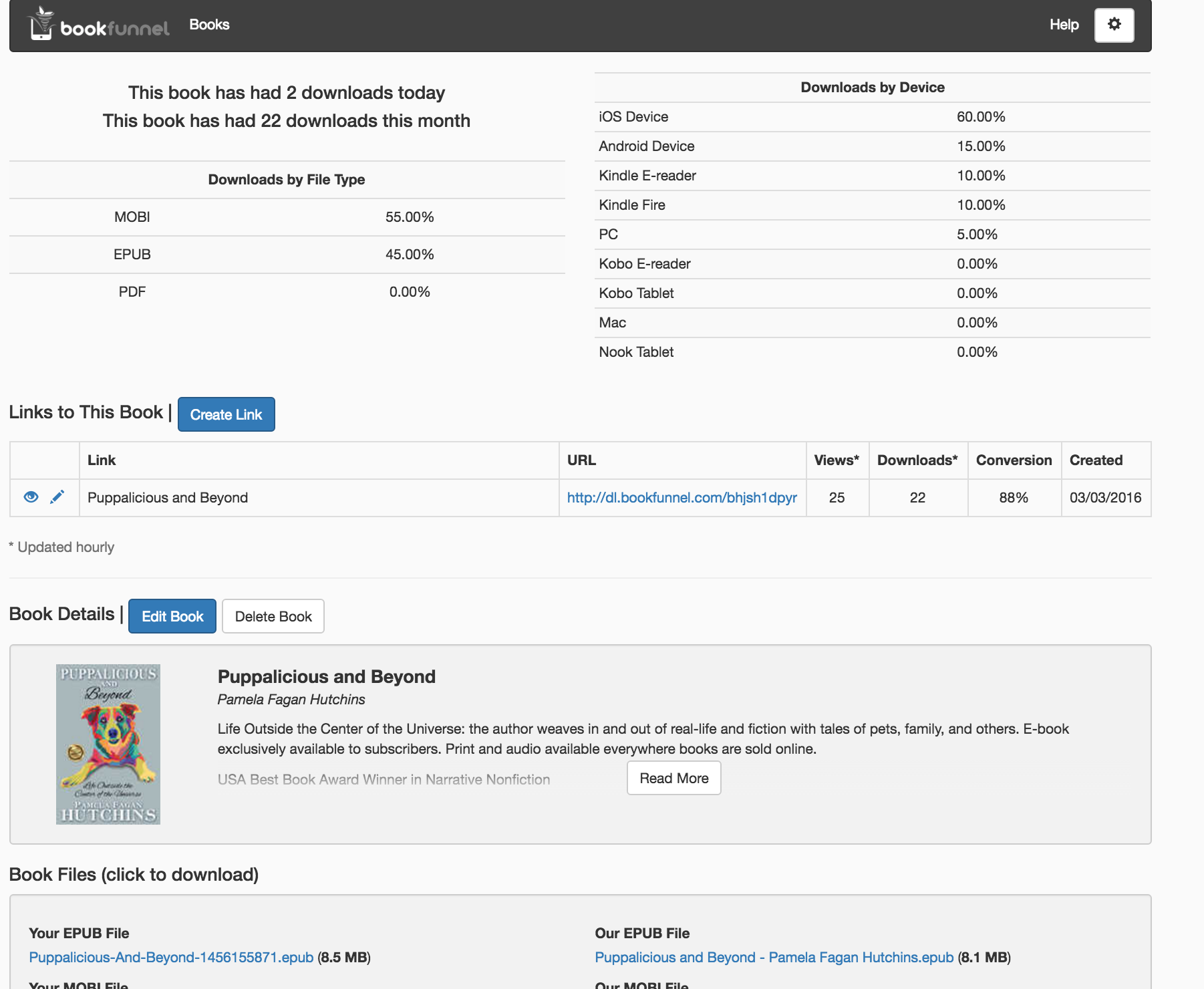 For instance, I can now see how many people actually downloaded my "free for subscribers" exclusive ebook. Yippee!
For tips like these and many more, check out my classes on the SkipJack Publishing Online School (where you can take How to Sell a Ton of Books, FREE).
I'm sure not going to miss the bad old days of emailing free ebook files. By the way, I used Instafreebie for awhile, but I like BookFunnel better.
Who else has tried this or another method of free book sharing that they recommend?
Pamela
p.s. Yes, you now have the codes to download Hell to Pay free. Bonus ;-), but I sure would appreciate an honest review in exchange for the freebie, y'all.
Pamela
Pamela Fagan Hutchins, winner of the 2017 Silver Falchion award for Best Mystery (Fighting for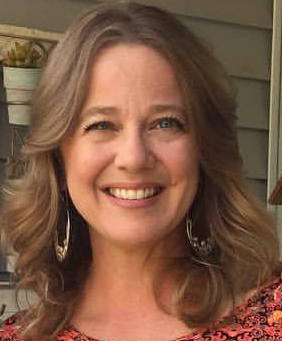 Anna), writes overly long e-mails, hilarious nonfiction (What Kind of Loser Indie Publishes, and How Can I Be One, Too?), and series mysteries, like those in her What Doesn't Kill You world, which includes the bestselling Saving Grace and the 2015 and 2016 WINNERS of the USA Best Book Award for Cross Genre Fiction, Heaven to Betsy and Hell to Pay. You can snag her newest release, Bombshell, if you've already run the rest of the table. She teaches writing, publishing, and promotion at the SkipJack Publishing Online School (where you can take How to Sell a Ton of Books, FREE) and writes about it here on the SkipJack Publishing blog.
Pamela resides deep in the heart of Nowheresville, Texas and in the frozen north of Snowheresville, Wyoming. She has a passion for great writing and smart authorpreneurship as well as long hikes and trail rides with her hunky husband, giant horses, and pack of rescue dogs, donkeys, and goats. She also leaps medium-tall buildings in a single bound (if she gets a good running start).