Recently I had the honor of attending my first Novelists, Inc. conference. It is a "must-attend" annually for me from here out. My head is spinning with ideas and information that will change strategy and tactics for me, in big and small ways.
One thing I'm wrestling with is the insight David Gaughran shared about promoting a series, and how strategy differs based on whether the series is part of KDP Select versus wide distribution. (He did not promote one strategy over the other, although he is in the process of moving his books out of KDP Select). I blogged recently about how far my Amazon income has fallen, and the impact that has on my overall income. I definitely learned I am not alone in this boat from other authors, but I feel now I have new strategies I can pursue.
In a nutshell, David advises that for wide distribution, first in series still works well on non-Amazon sites, and that the primary strategies for promotion are:
BookBub or the few other online promotions that really work, any time you can get one, especially for first in series, and pursuing opportunities for promotion by Kobo and Apple.
Mailing list, mailing list, mailing list (and all the strategy inherent in how you obtain subscribers, keep them, and get them to open, and act, which is the topic of future blogs). He also recommended newsletter "swaps" with other successful authors for them to announce your new release and you theirs. He talked about the importance of reader magnet content to keep readers engaged with the newsletters (maps, alternative endings, short stories: all = exclusives).
Facebook ads (again, the topic of future blogs, as he is a proponent of push-pull marketing to very, very targeted audiences and had some specific suggestions in a different session at the conference). He suggests micro campaigns targeted to your ideal reader by geography and retailer, like $5 a day, and tweaking but never turning them off.
He calls this the "many streams make a mighty river" approach, and likened visibility/promotion to drip, drip, drip. 🙂 I also attended sessions by Kobo and about Apple, that led me to conclude there are ways to increase presence and sales on those sites. Topics for future blogs 🙂 I did not attend the Pronoun or Draft2Digital sessions, but I'm waiting on the follow-up notes for those and the newsletter session, so I can possibly implement some new strategy about how to go even wider on distribution, and combat the pricing vagaries of Google Play, so stay tuned.
For KDP Select series, he recommended a regular promotional blast, done once a month, doing it all at the same time, aggressive with pricing, and the rest of month coasting on that rank.
Example (done all at the same time):
Book 1: 5 days of promoting is as free with best promotions you can book
Book 2: Kindle Countdown, 5 days of promoting it
Book 3: New release in a mailing list blast (mentioning other promotions) split over multiple days.
He talked about enhancing these efforts with Facebook static image and carousel ads and BookBub ads, if you're really "all in". To him, the key is to sacrifice money today (leave prices down for at least a week) for visibility tomorrow, keeping price DOWN, and going for Amazon-generated recommendations and page reads ongoing.
Personally, I have not mastered Facebook ads yet, so I am going to start experimenting with them again. I am wide distribution. I'll report back on how that goes when I blog on more of the FB ad ideas shared at the conference, and much more. These blogs will have to take David's drip, drip, drip approach 🙂
Until then,
Pamela
Pamela Fagan Hutchins, winner of the 2017 Silver Falchion award for Best Mystery (Fighting for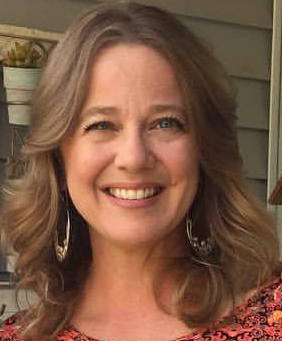 Anna), writes overly long e-mails, hilarious nonfiction (What Kind of Loser Indie Publishes, and How Can I Be One, Too?), and series mysteries, like What Doesn't Kill You, which includes the bestselling Saving Grace (e-book free everywhere) and the 2015 and 2016 WINNERS of the USA Best Book Award for Cross Genre Fiction, Heaven to Betsy and Hell to Pay. You can snag her newest release, Bombshell, if you've already run the rest of the table. She teaches writing, publishing, and promotion at the SkipJack Publishing Online School (where you can take How to Sell a Ton of Books, FREE) and writes about it here on the SkipJack Publishing blog.
Pamela resides deep in the heart of Nowheresville, Texas and in the frozen north of Snowheresville, Wyoming. She has a passion for great writing and smart authorpreneurship as well as long hikes and trails with her hunky husband, giant horses, and pack of rescue dogs, horses, donkeys, goats and whoever else wants to tag along, traveling in the Bookmobile, and experimenting with her Keurig. She also leaps medium-tall buildings in a single bound (if she gets a good running start).