After a year with Findaway Voices and seven with ACX, I finally feel able to give a status update and my recommendations. Findaway Voices (FV) is a great alternative (or companion) to use with ACX. For a new author, I would recommend going with FV at the get-go, if you can afford it. Which is a big "if" and raises the an important discussion on what does and doesn't work…and why. But we'll save that one for last. First let's talk about the easier issues to understand.
Distribution:
FV is a big winner over ACX when it comes to distribution. ACX offers exclusive distribution to Amazon, Audible, and Apple, or non-exclusive, which means you can put it elsewhere yourself. FV, on the other hand, offers two plans. Standard and Voices Plus. Use Standard if you want to upload to retailers outside FV/Authors Direct. Use Voices Plus if you want to use FV as an aggregator to nearly 50 retailers and library distributors. The royalties are the same for each FV plan with each 80%, compared to ACX who offers 40% for exclusive and 25% for nonexclusive. Below is the general definition of each and the potential retailers if you're in Voices Plus. However, note that you can opt out of any of the retailers, and also that there is a 6-month cancellation timeline upon notice for VP.
But the big benefit: VP puts you first in line for retailer promos. See below.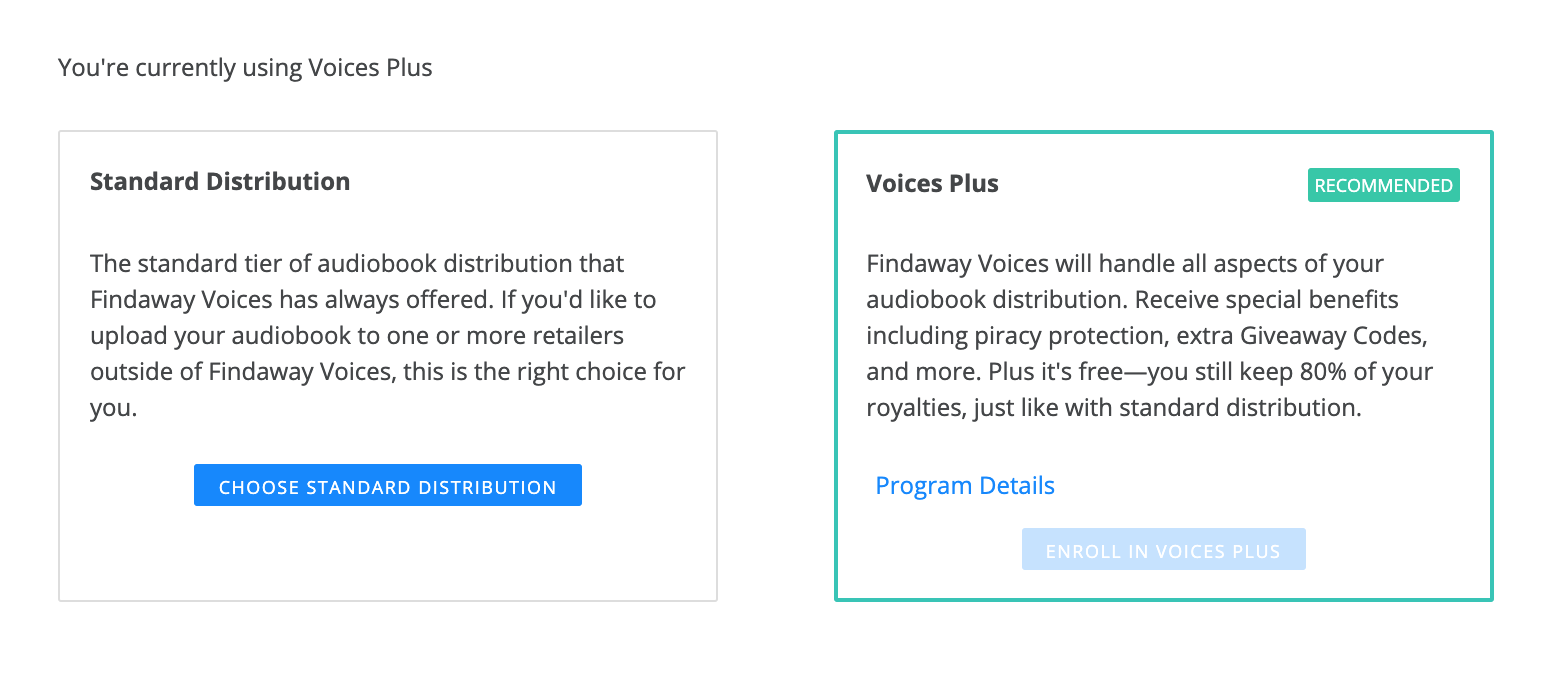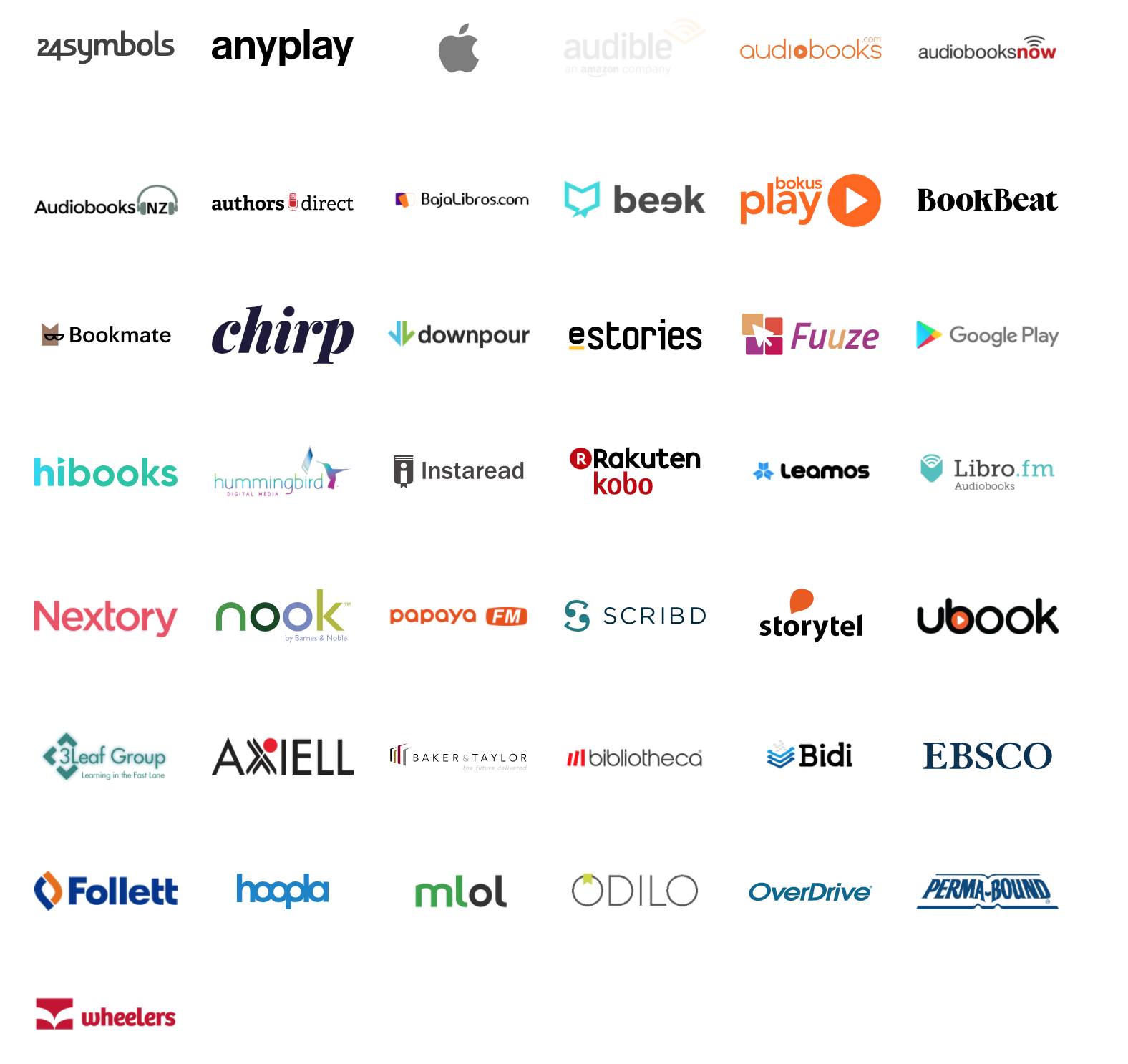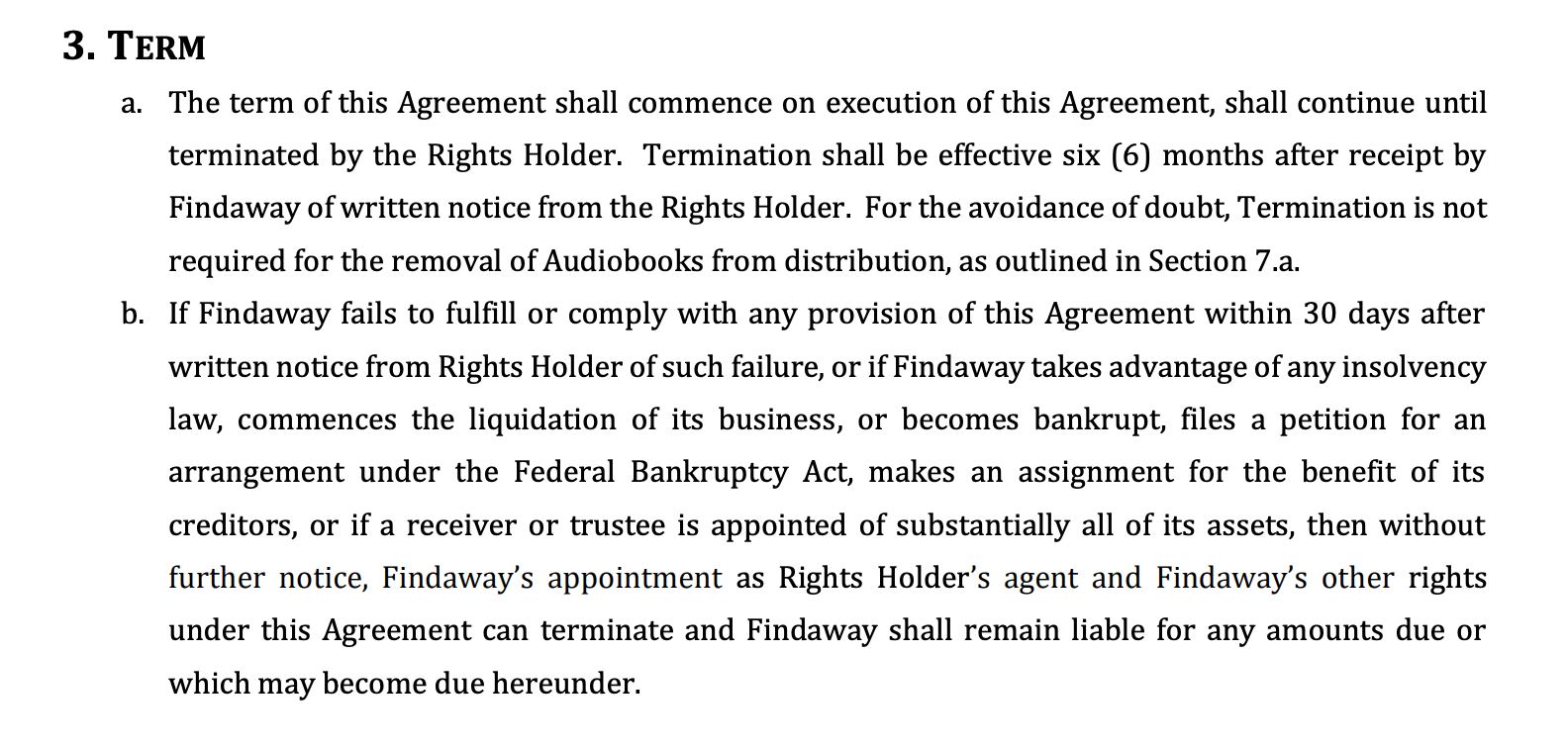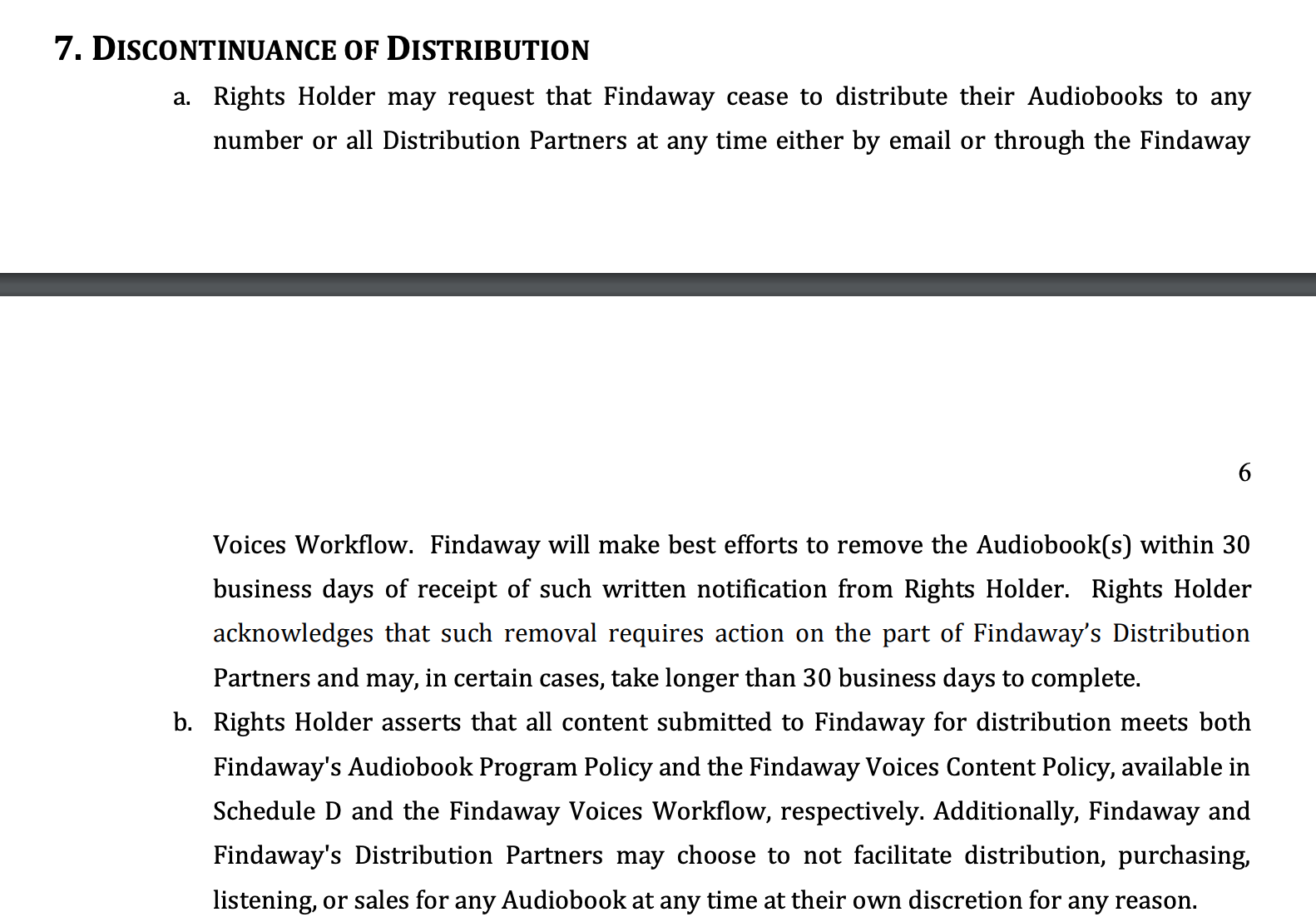 For me, the library distribution options has generated a lot of additional income and discovery over what I make for audiobooks via ACX.
Pricing:
FV is a big winner over ACX when it comes to pricing, allowing rights holders to set their own prices, although they have a tool which calculates recommended prices as well. ACX sets its own prices. Period.
Promotional opportunties:
FV is a big winner over ACX when it comes to promotion, in 3 ways.
FV partners with BookBub's Chirp audiobook platform. Not only is this a distribution opportunity, but Chirp selects audiobooks for promotion through BookBub. Rights holders apply for these promotions via Bookbub's Author/Partners Platform. At this point in time, the promotion is in beta and is FREE. I don't know how much longer it will be free. I've had 2 Chirp promos. The first ($0.99 for an individual novel) I made about $650 on. The second ($1.99 for a 3-novel box set) I made several thousand.
FV allows rights holders to set promo prices for their own books. Then the rights holder can promote the discounted price however they'd like, including ads on BookBub directly targeting audiobook fans. I have a 3-novel tiered discount set up this month that I'm promoting on BB ads.
FV partners with Apple and some other audiobook vendors to select books for free discounted promos. VP members are first in line.
ACX win on promo codes: Like ACX, FV gives rights holders free codes (which work in the US and EU/UK), with additional free codes to those enrolled in Voices Plus. But on ACX, if you published prior to April of 2020 or thereabouts, ACX paid you in full for a sale when those promo codes were redeemed. Plus, redeemers on ACX could leave reviews on Audible, whereas people that redeem FV codes cannot leave Audible reviews. (They can review the audiobooks on Amazon, however).
Customer service:
ACX customer service is notoriously impersonal, takes forever, gives inconsistent answers, and basically sucks.
FV has good customer service, but they're limited in what they can do for you as an aggregator to the retailers in their distribution network. Most notably, with ACX. I have a box set that has made me thousands of dollars this year on FV that has never been approved (8 months and counting) on ACX, even though the individual novels in the box set have been. And FV has no bargaining power to get them to do anything to break the logjam. ACX (Audible, Amazon) is an important retailer, even when you're on FV, and this inability to work with their business partner is a significant drawback. On the other hand, see above. ACX is slow and difficult even when you're working with them directly.
This one is breakeven between the two.
Paying for narration:
The discussion point we've all been waiting for…
On FV, you have a choice of uploading your own narration OR using one of their narrators and paying for finished produced hours (PFH). The upside is that if you own your own video this is a simple process for something already paid for. If you don't, you can either choose one of their narrators OR talk your favorite narrator into signing up for FV. The cost can be thousands of dollars. Whereas on ACX you can choose a 50/50 royalty share agreement for 7 years rather than a PFH (if you choose PFH, the cost is the same as on FV).
So let's say you produced an audiobook on ACX using PFH. If you have a nonexclusive sales arrangement with ACX, you can also upload that same video on FV, because you own it outright. If you chose exclusive arrangements with ACX, you can request them to convert it to nonexclusive aftera one year on ACX.
If you produced an audiobook on ACX using royalty share, things get much, much more complicated. You can buy-out your narrator at a negotiated lump sum, then mutually write to ACX to let them know that you have canceled your royalty share agreement. Once that is done and shows you as the sole owner, you now own the audio and can use it elsewhere, like on FV. If you are unable to negotiate an agreement for sole ownership, then, after 7 years, you can ask that the books be taken down. Then, things get tricky. You solely own the narration after 7 years. But, depending on when you entered the agreement with the narrator using ACX's contracts, the language is a bit iffy. You own the audio, but…it may read that you always split royalties on ACX. If that's the case, arguably, you cannot republish that narration unless you pay the narrator their share of the royalties that come from ACX. Trust me, that's a nightmare, especially if you have lots of audiobooks. But you could certainly just agree to provide them the FV sales reports and pay the correct dollar amount to them on an agreed periodic basis of the ACX-derived royalties. Or you may have entered the agreement on ACX when the language didn't restrict you to paying them ACX royalties forever after the 7 years has elapsed. It appears it was always their intent to release the audio to the "rights owner" (author) after 7 years, but their early-days contracts were just ambiguous.
I'm VERY VERY interested to hear stories in the comments from authors and narrators on how this has worked for them. If you do, please give the year the audiobook was first published on ACX.
Final analysis:
I have 8 books on FV, and I have 23 on ACX. In June 2020, I made $3040.32 on FV and $836.81 on ACX. I did have some hot, newer audiobooks on FV, and I am on royalty share for the books remaining on ACX, so double that number to $1672 to offset the royalty share. That's still twice as much on FV as ACX. The big difference was a Chirp deal on FV, which is not available to me on ACX.
It's always about net income for me. So, yeah, you can bet I'm continuing to move my books over to FV as fast as I possibly can…
What is your experience in Audiobooks?
Pamela Fagan Hutchins is the USA Today bestselling and Silver Falchion Best Mystery winning author
of Switchback, Saving Grace, and a whole lot of other novels, a fangirl video/podcaster, and a big dog and rescue horse enthusiast who splits her time between Wyoming and Texas. Join her October 20-22 for a virtual indie publishing success retreat. Space is limited; details at http://pamelafaganhutchins.com