This year in the book industry, sales lulled—as they do historically—in September. The change came with worsening sales in October instead of the anticipated rebound, and things are only now starting to improve, although far worse than pre-August levels, according to the authors and publishers with whom I regularly interact (it's a pretty deep and broad spectrum). I'd love to hear how your experience was.
I made the expensive error of dropping a few thousand dollars to promote the launch of a new book in a successful series. I comfort myself thinking that the money spent kept my sales from being even worse than they would have been. But I literally have traditionally published friends who are resuming day jobs they left behind long ago due to the failure of launches in this unfortunate season. I think in general the fact that I had a strong and effective advertising strategy kept me right-side-up. I've also discovered an advanced new Facebook ads strategy that is a game changer, with spectacular results. I'll be teaching it in my January Indie Publishing Success Retreat, which will focus on Ads, Promotion, and Subscriber Lists, and How to Optimize and Integrate Them.
So let's talk about a bright spot instead of doldrums.
In the past, if you wanted to have a linked series on Amazon, you had to write to them through Author Central to ask them to set it up. The results were hit or miss, too, on whether they did it correctly. Occasionally, they'd also put together their own series page for you, and it was usually…horrific.
But now there is an option in your KDP Dashboard to create and manage your own series. It looks like this: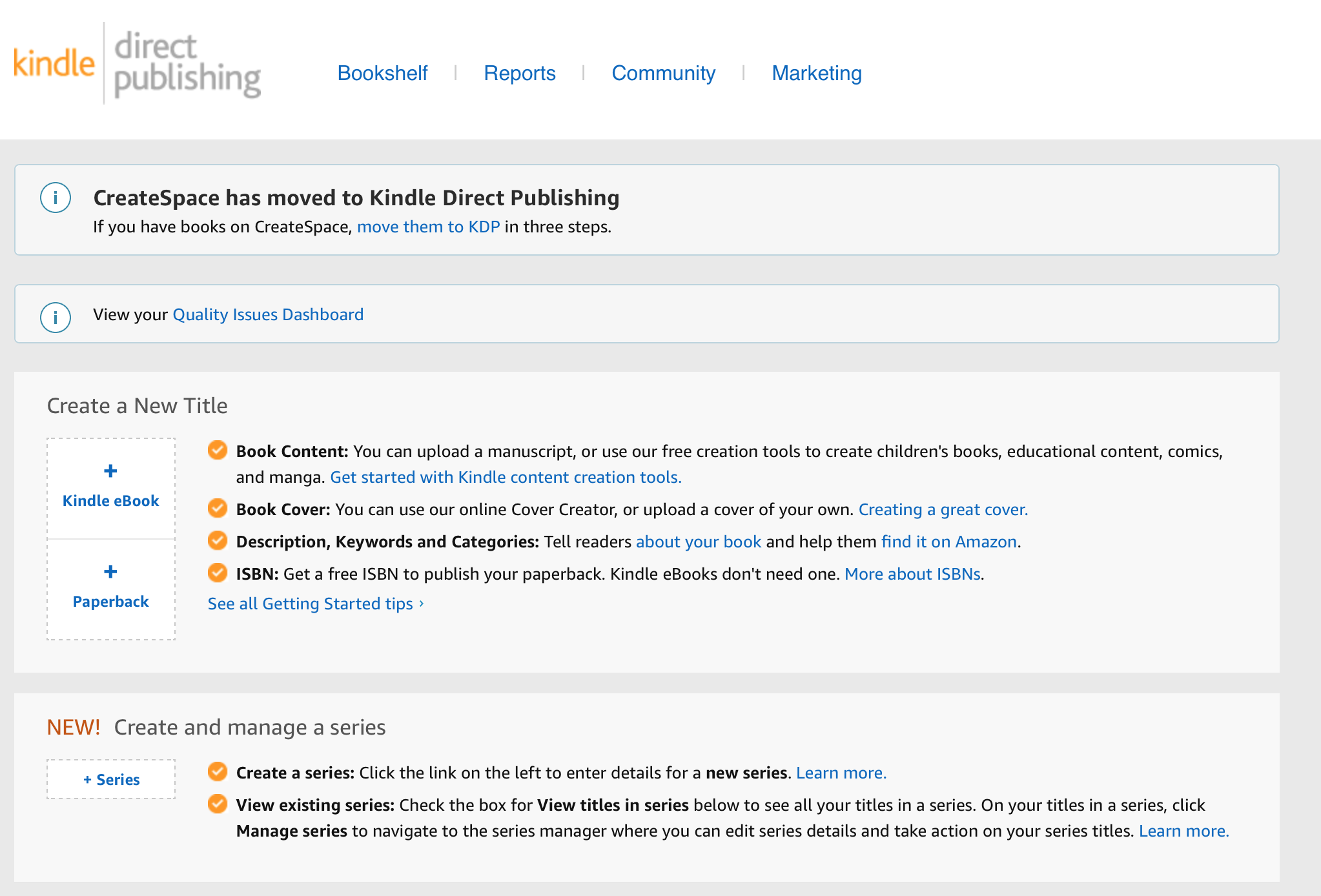 This is what the Series Setup Page looks like: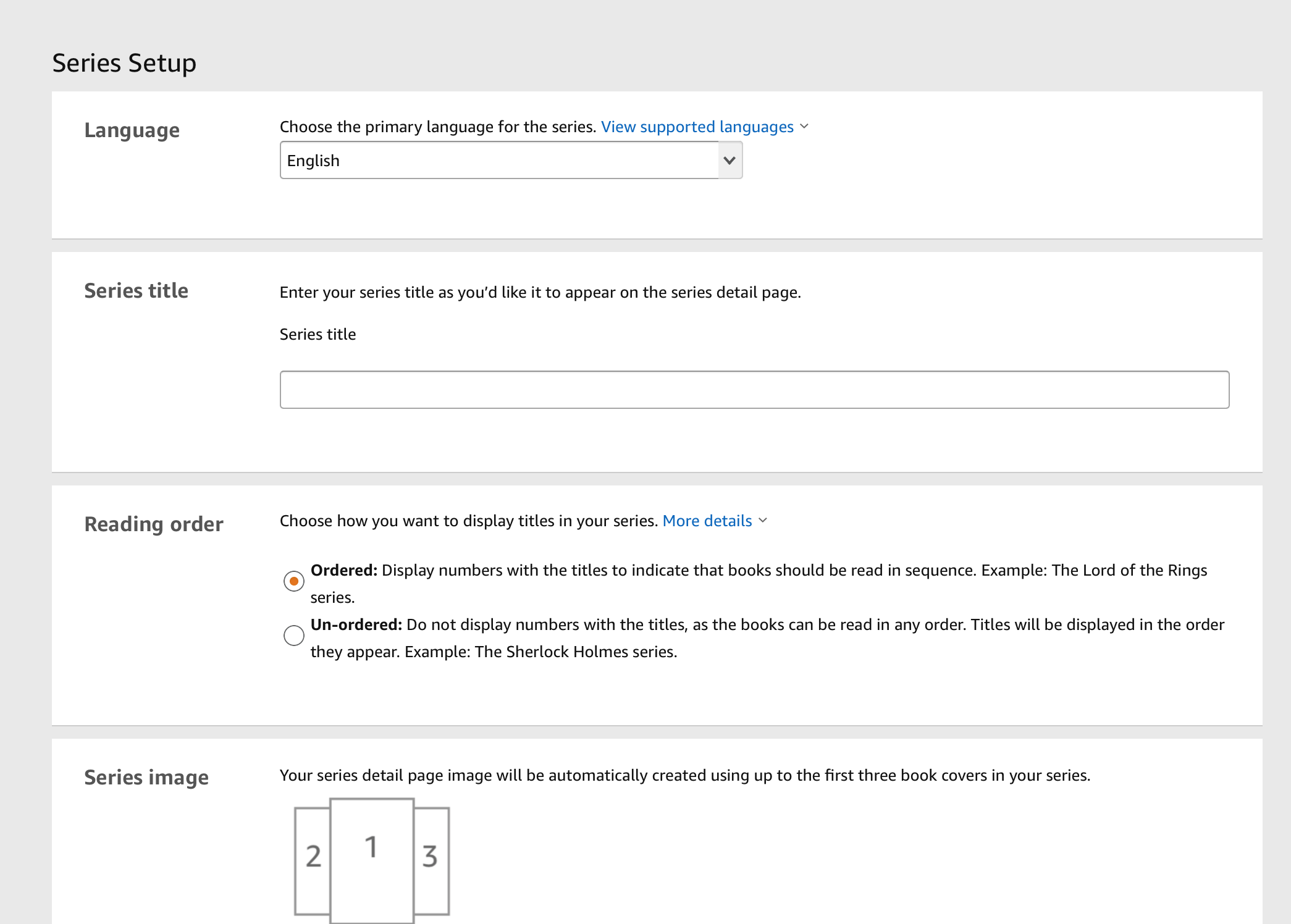 If you want to manage an existing series, scroll down to your titles. By each one, it will show the series they are linked to: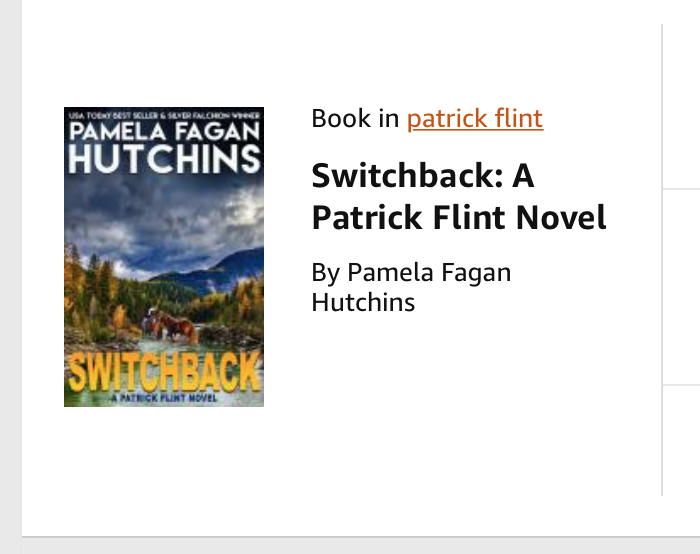 If you click that, you get choices. Edit the details, manage the series, or to view the content and manage it from there. Note: Related Content (which can include novellas, short stories, epilogues, prologues, box sets, series guides–anything you want–isn't live yet, but they encourage you to go ahead and add it).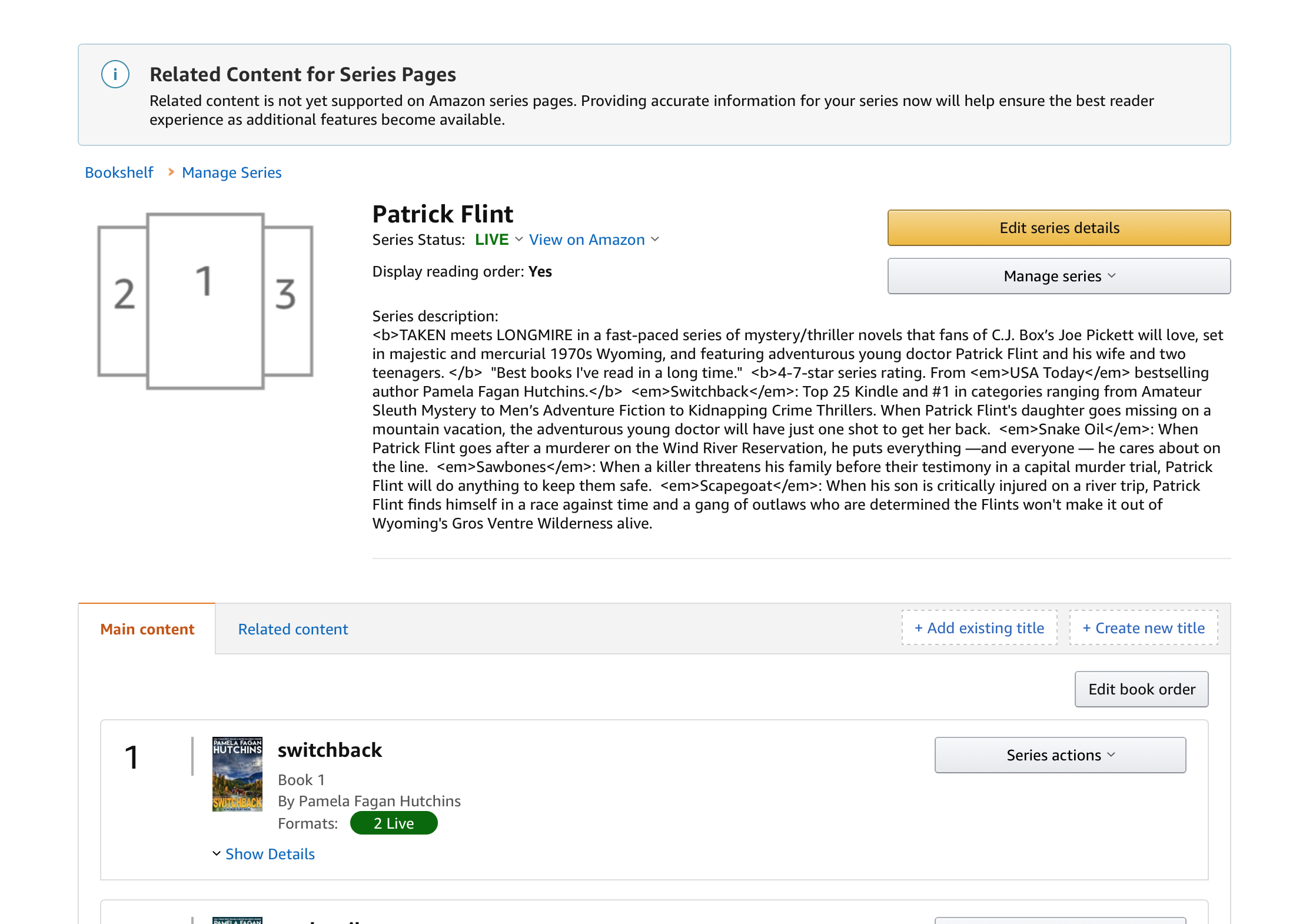 If you choose to manage the series, you can add a title, create a title, or delete the series.

This is what Add a Title looks like: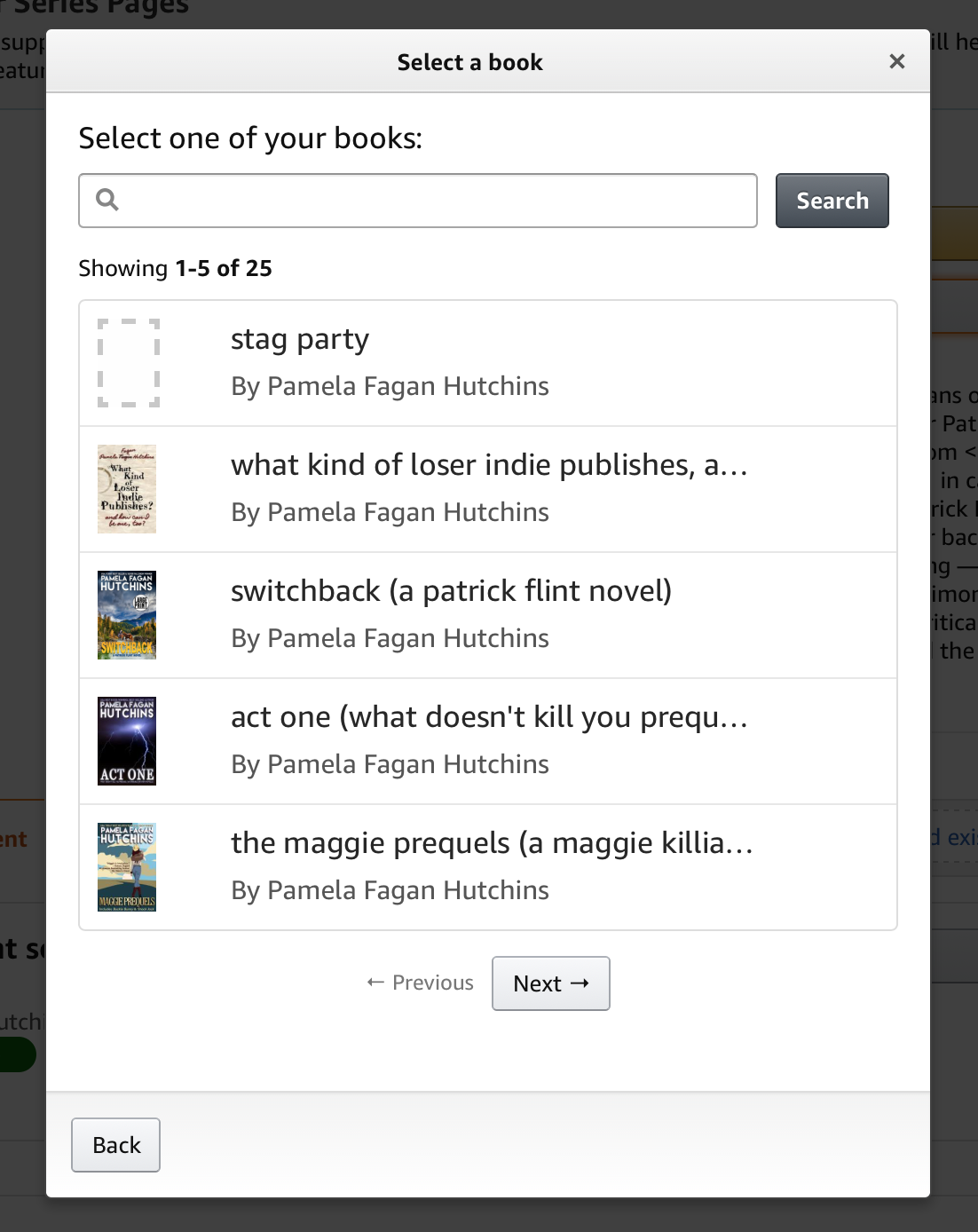 This is what Create a Title looks like: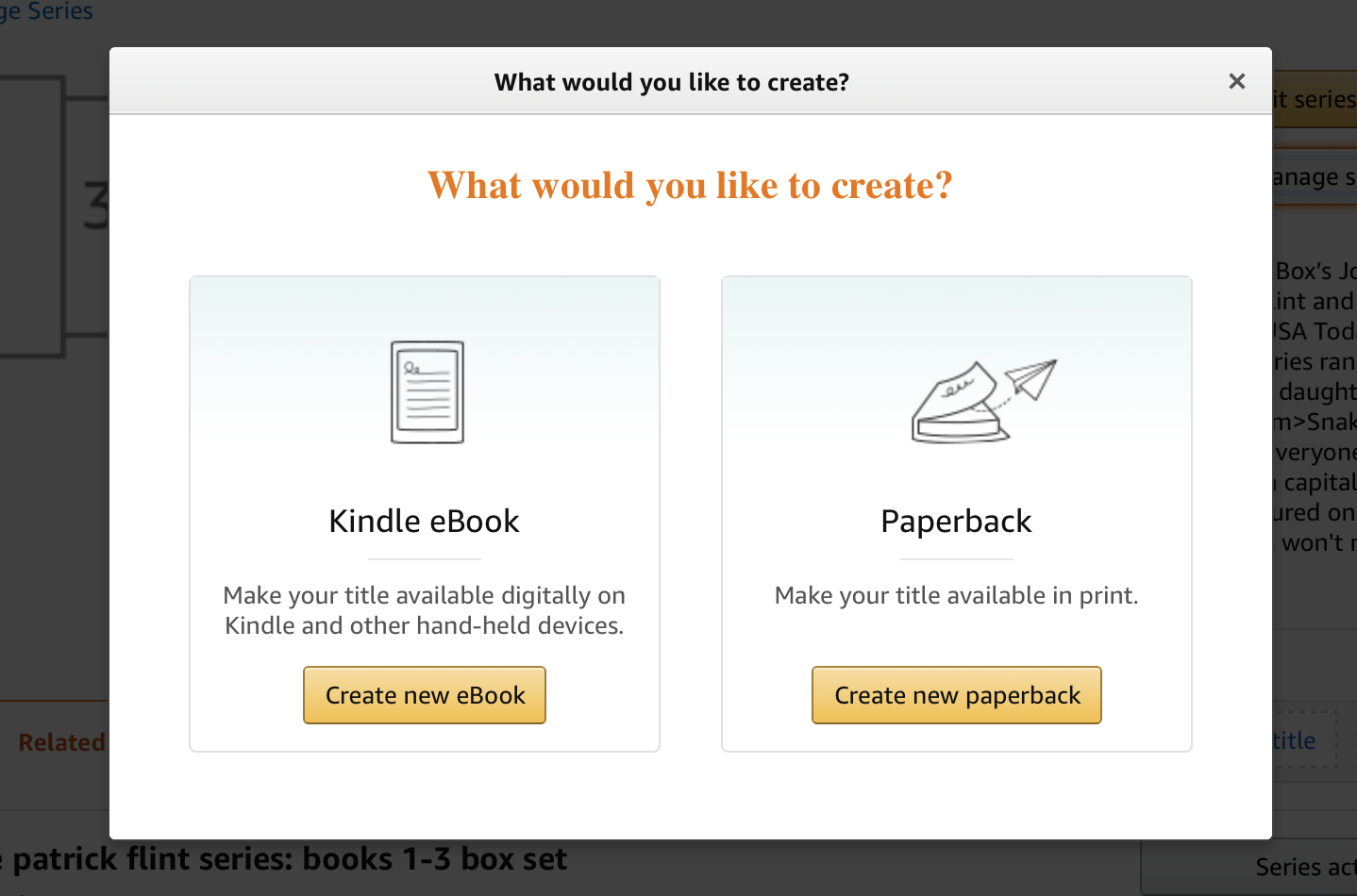 This is what it looks like if you open the related content tab (and have something in it). 

And the kicker? Here's what my series page looked like before this feature — it was just the blurb/description for book one in the series.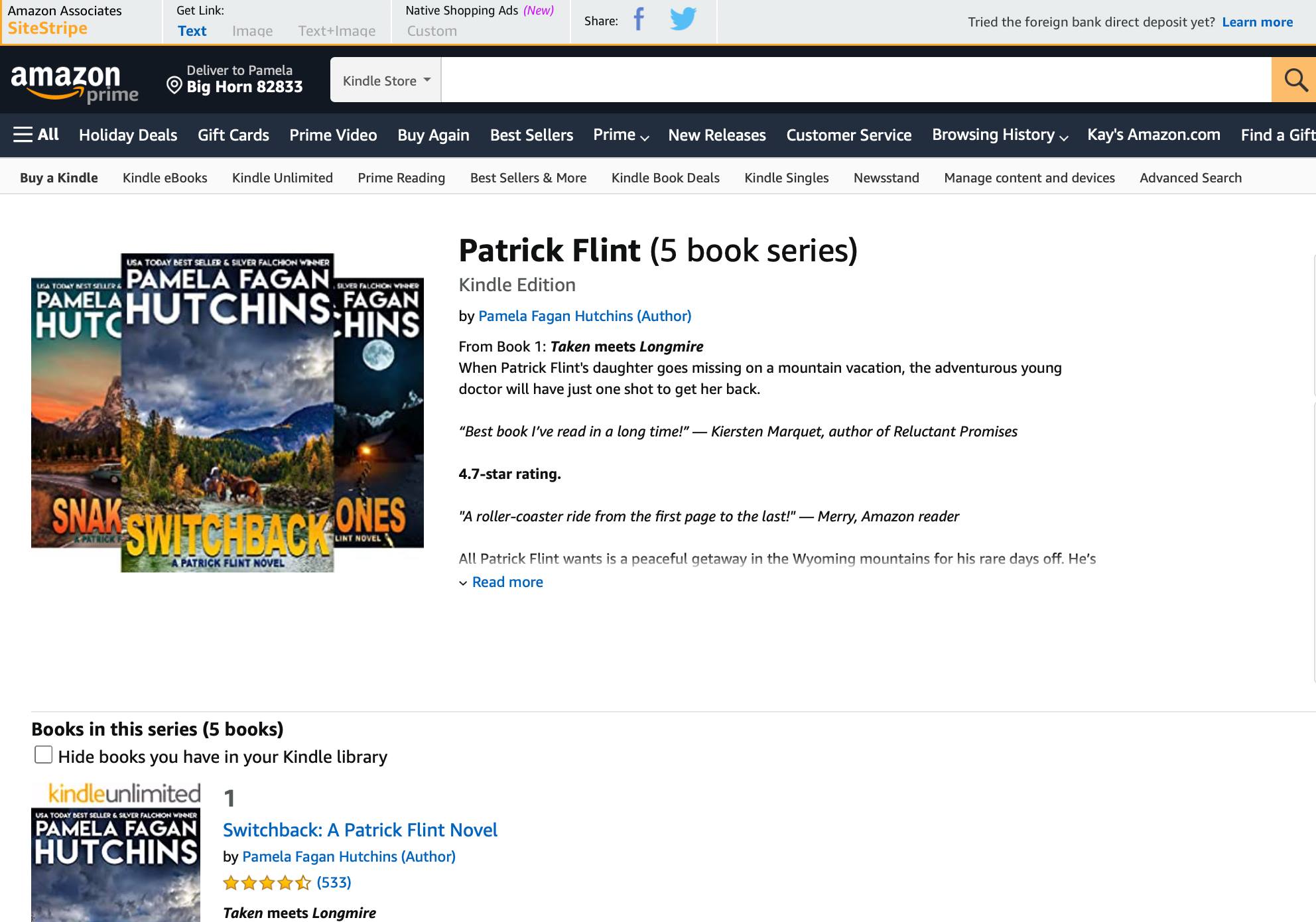 After I got to create my own series page, I was able to edit the description to a true series introduction, which I am very excited about. Unfortunately, I can't edit the image. It's just the first 3 books in the series.

I'm also pleased that they've improved the automatic content on the series page. In the recent past, readers seeking paperbacks or audio were super confused and it was hard to tell them how to find those formats. While the series page still favors bulk Kindle ebook buy, or individual Kindle Unlimited Adds, the other formats clearly show up in a nice format beside each book cover.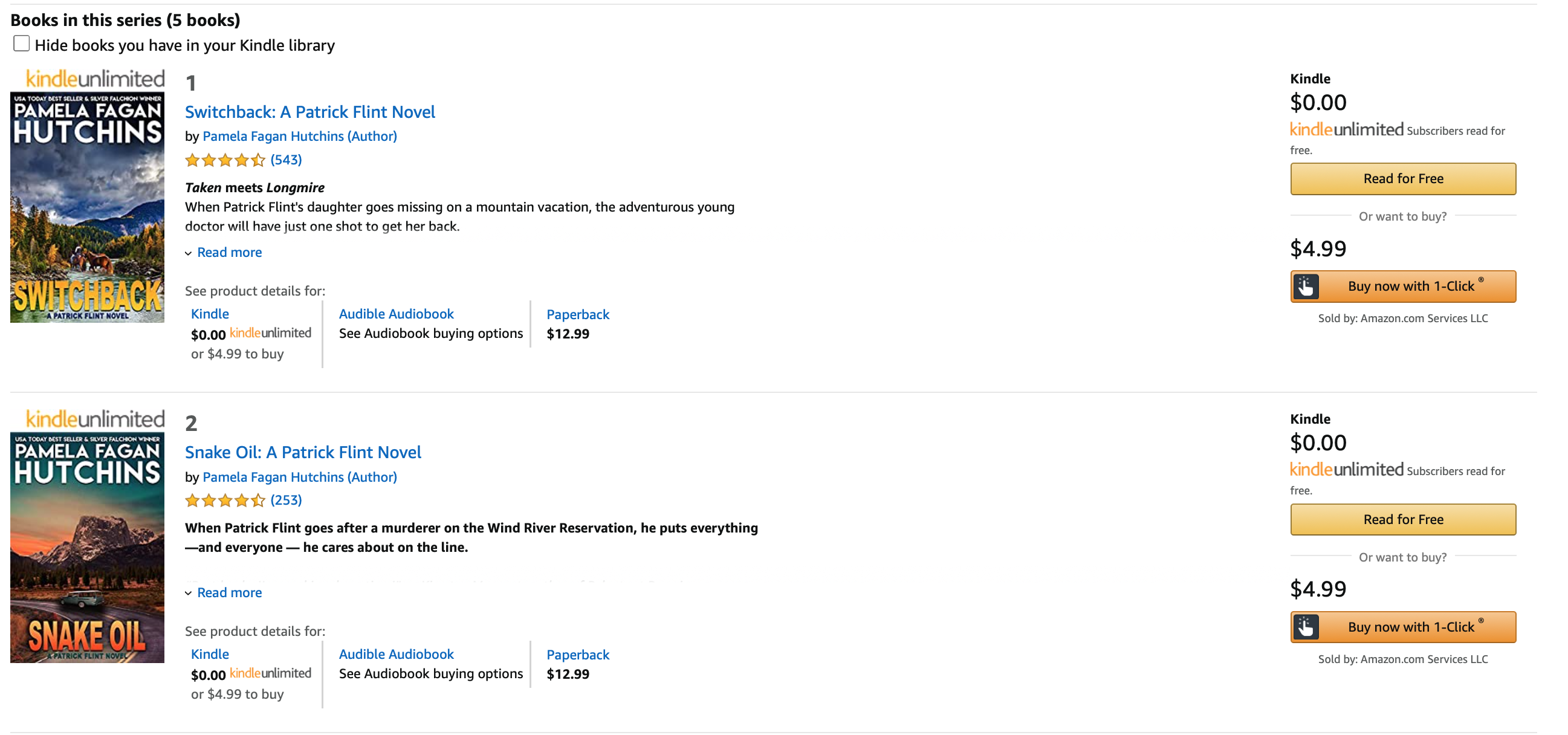 Finally, why are series pages important? They not only show series readers the other books directly from your book page, like this: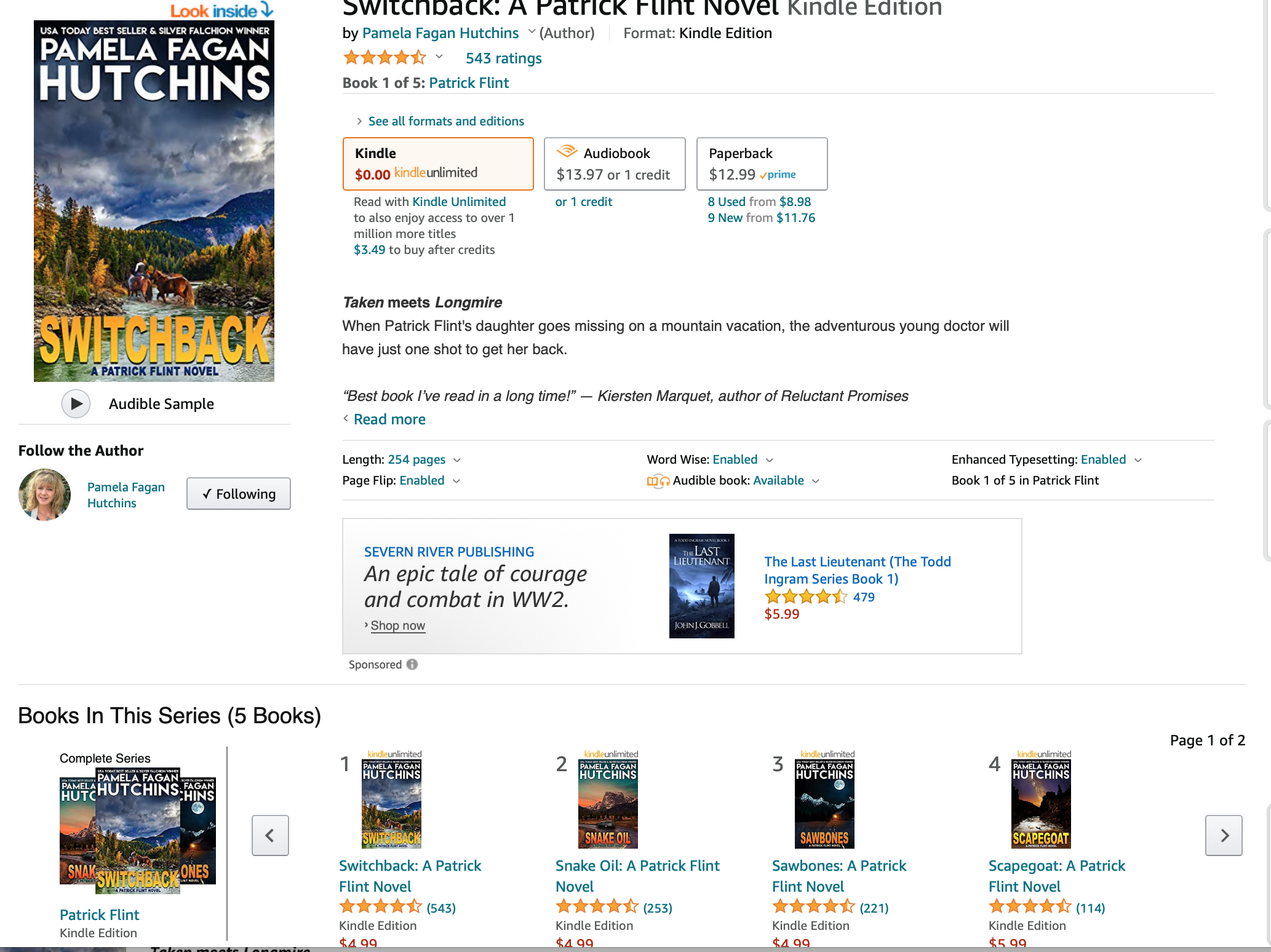 But they also are a really nice link to use when you are doing advertising or promotion. Why not make it easy for people to buy more than one of your series books at once when you first guide them to your content? You may never get that chance again!
Let me know how it's been going for you guys out there…
Pamela
Pamela Fagan Hutchins is the USA Today bestselling and Silver Falchion Best Mystery winning author
of Switchback, Saving Grace, and a whole lot of other novels, a fangirl video/podcaster, and a big dog and rescue horse enthusiast who splits her time between Wyoming and Texas. Join her January 26-28, 2021 for a virtual indie publishing success retreat. Space is limited; details at http://pamelafaganhutchins.com