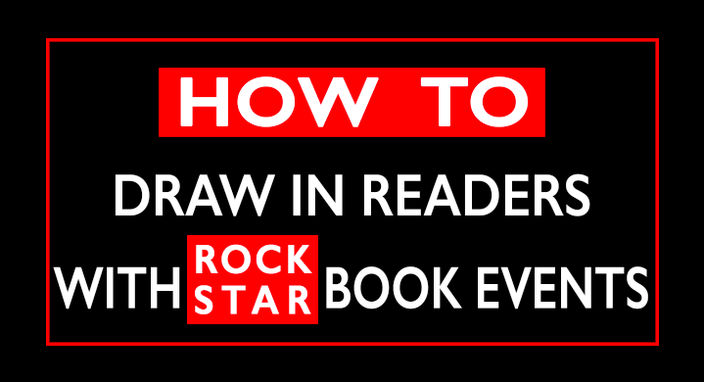 Well, I recorded another class from the wilds of Wyoming . . . and here's the scoop:
We've all seen the downcast author hiding behind his towering table of unsold books, alone, at one of the big box stores, haven't we? We veer to avoid him, lest he shatter our vision of a packed house and long line at our own events some day.
I'm going to let you in on a little secret: book events are hard. They can cost you real money. They're not always fun. But they're absolutely golden for author visibility and can be parlayed into a long term impact. I did over 200 events in the first three years after I published my first novel. I gained thousands of subscribers for my reader list in addition to engaging with readers, old and new, creating interesting content for my blog and social media, and generating hundreds of thousands of impressions of my book covers, titles, and author name. And, yes, I sold books and had fabulous Nielsen Scan numbers.
So if you've got the guts to put yourself out there—for readings, book signings, speeches, workshops, book fairs/festivals, or any of the myriad of opportunities waiting for you—let me teach you how to make them into a smashing success. Because I don't ever want you to have to be that lonely guy hiding behind his books :-).
Enroll in  the course for only $10 HERE.
Pamela
Pamela Fagan Hutchins writes overly long e-mails, hilarious nonfiction (What Kind of Loser Indie Publishes, and How Can I Be One, Too?), and series mysteries, like What Doesn't Kill You, which includes the bestselling Saving Grace and the 2015 WINNER of the USA Best Book Award for Cross Genre Fiction, Heaven to Betsy, which you can get free in ebook, anywhere. She teaches writing, publishing, and promotion at the SkipJack Publishing Online School (where you can take How to Sell a Ton of Books, FREE) and writes about it on the SkipJack Publishing blog.
Pamela resides deep in the heart of Nowheresville, Texas and in the frozen north of Snowheresville, Wyoming. She has a passion for great writing and smart authorpreneurship as well as long hikes with her hunky husband and pack of rescue dogs, traveling in the Bookmobile, and experimenting with her Keurig. She also leaps medium-tall buildings in a single bound (if she gets a good running start).