Recently I had the honor of attending my first Novelists, Inc. conference. It is a "must-attend" annually for me from here out. My head is spinning with ideas and information that will change strategy and tactics for me, in big and small ways, and I've blogged on specific topics several times already. This week I'm sharing my thoughts on social media.
Love it, hate it, love to hate it, hate to love it, whatever your position is on social media, the reality for authors is that your readers are online. According to information released at NINC, an overwhelming majority of readers 1) buy books online (in whatever format: print, ebook, audio) 2) from recommendations ( 3) get those recommendations from social media, especially Facebook. If your readers are on social media, getting recommendations there, and taking those recommendations over to online retailers when making purchases, you need to be online, too, influencing them before they make these crucial decisions and click, click, click.
Which ones?
Yes, you've got a website (you need a website to show you're "real"). Yes, you've optimized your Amazon and Goodreads author pages (yes, you need those for the same reasons,). [I'll blog tips on these soon.] But you still need to be where readers are chatting and sharing and living, which is Facebook. I regularly communicate with a large group of best-selling authors, and no one finds their investments in Twitter, Instagram, or other social media as valuable as they do Facebook. And if you stay off Twitter you won't have to read a certain President's tweets. I find that incentivizing to devote my efforts elsewhere.
Facebook first. Others only if you're into them.
Page or Profile?
If you're looking for easy, just do a profile. If you want a "fan" page with a less personal tone and want the ability to do Facebook ads, you need a profile, too. It's up to you. I do both. Some people do individual pages for their books or various nom de plumes. That's too much work for me. But I do like to boost posts to get more engagement when I have new releases, and my assistant runs ads for my box sets. I couldn't do those without a page.
Here's my profile today, where I'm most personal: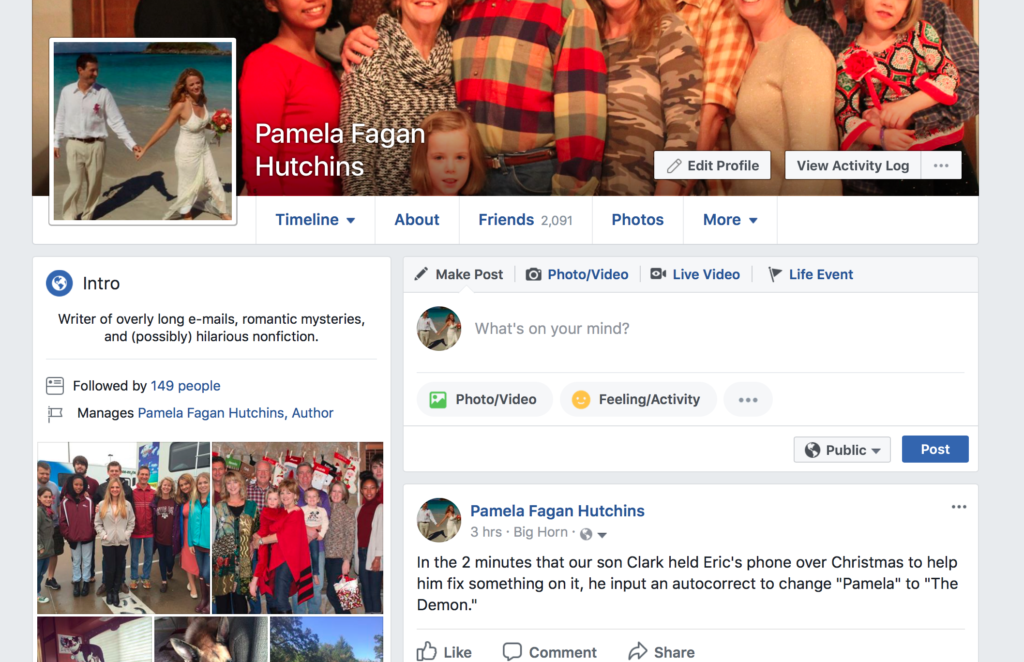 What do I post?
Your readers follow you because they want a little more of what you have to offer. More about your books, more about your writing, and more about your life. Think of your posts as letters to someone you are dating. Be more interesting, more intriguing, more exciting than you are in real life. Make your posts match the persona captured in your bio on your website and Amazon/Goodreads author pages too.
Do post asking people favors. People respond well to requests for favors.
Do include photos, gifs, memes, or short videos. People love these. Honestly, it shocks me how much people love short videos. If I include my husband, my views double. Go figure (well, he's eye candy; there's that; but I think our chemistry appeals to my romantic mystery readers).
Here's an example of one of these dumb, popular videos that show readers what my life is like and appeal to my ideal readers (women aged 40-70):

Do post announcements: pre-orders, cover reveals (strategically), awards, honors, new releases, milestones, celebrations, you name it.
Understand that if you include links, less people will see your post unless it is on your page and you boost it. (Thanks for nothing, Facebook)
Do engage with people who comment on your posts (you can delete any trolls). This is your big chance to build a base of super fans.
Do not post asking people to buy your books, or telling them to, or chastising them because they haven't reviewed or bought your books. Your goal is that by posting information about your books and writing as you are building your fan base that other people will see their friends engaging with you about it, and that your friends and followers will also share your information. You aren't direct selling. You are becoming visible, and you're looking to engage with your readers.
How often?
Can you handle once a day? If not, how about twice a week? I prefer the former so that you could engage with readers in real time that comment on your posts. But anything is better than nothing.
What about groups?
Listen, if you've done everything I've already mentioned, you're doing great. You can stop. But if you want to create a group for your super fans who have a much larger appetite for all-things-you and where you can communicate with them directly with a great chance of engagement, groups work well for this. I have a group for advance reviewers and another for super fans. They are very active.
Here's my "super fan" group: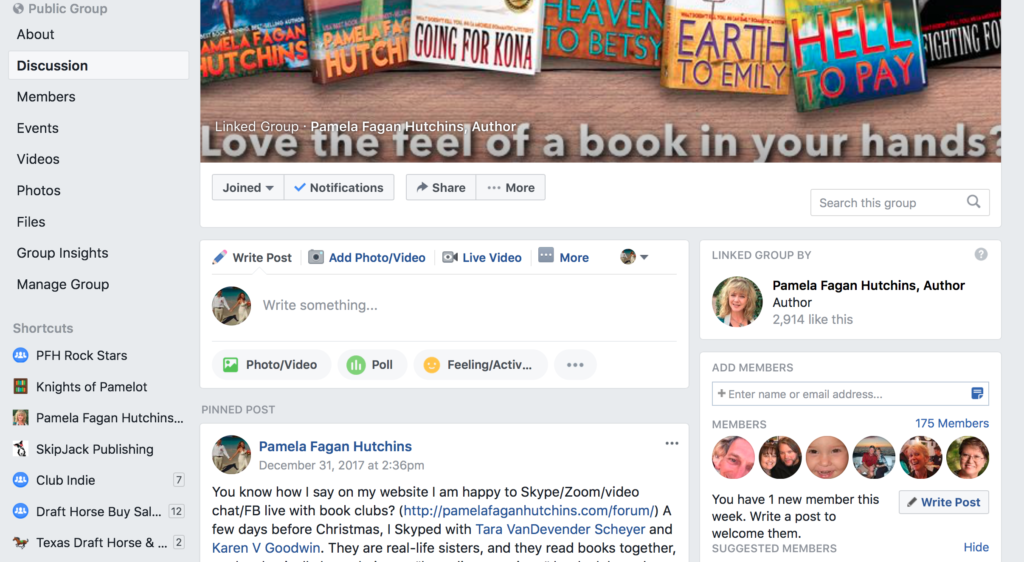 What have I left out? Tell us what strategy works best for you with social media. Our fingers are poised over the keys, ready to implement 🙂
Pamela
Pamela Fagan Hutchins, winner of the 2017 Silver Falchion award for Best Mystery (Fighting for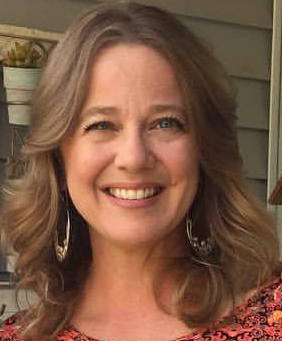 Anna), writes overly long e-mails, hilarious nonfiction (What Kind of Loser Indie Publishes, and How Can I Be One, Too?), and series mysteries, like those in her What Doesn't Kill You world, which includes the bestselling Saving Grace and the 2015 and 2016 WINNERS of the USA Best Book Award for Cross Genre Fiction, Heaven to Betsy and Hell to Pay. You can snag her newest release, Bombshell, if you've already run the rest of the table. She teaches writing, publishing, and promotion at the SkipJack Publishing Online School (where you can take How to Sell a Ton of Books, FREE) and writes about it here on the SkipJack Publishing blog.
Pamela resides deep in the heart of Nowheresville, Texas and in the frozen north of Snowheresville, Wyoming. She has a passion for great writing and smart authorpreneurship as well as long hikes and trail rides with her hunky husband, giant horses, and pack of rescue dogs, donkeys, and goats. She also leaps medium-tall buildings in a single bound (if she gets a good running start).