Middle-aged Endurance Athletics Meets the Hormonally Challenged
To buy a copy signed by the author, click here:
Also available in "brick and mortar" stores (paperback), Amazon (paperback

and Kindle ebook
), and Barnes & Noble (paperback). Ask your bookstore or library to order it for you, if they don't have it.
Read about Hot Flashes And Half Ironmans
The author has been there and done that, with lessons learned and sense of humor (usually) intact. She completed her first triathlon at 39 and her first Half Ironman at 40. She has her eye on an M-dot tattoo in 2014.
Read excerpts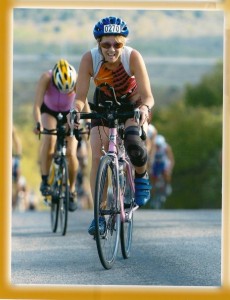 Pamela Fagan Hutchins writes mysterious women's fiction. She also writes non-fiction focusing on special needs parenting, blended families, relationships, indie publishing, and athletics. She is an employment attorney, human resources expert, and business owner living in Texas with her husband and hodgepodge of kids and animals.