Middle-aged Endurance Athletics Meets the Hormonally Challenged
To buy a copy signed by the author, click here:
Also available in "brick and mortar" stores (paperback), Amazon (paperback
, audiobook, and Kindle e-book
), Indiebound (paperback), Hastings (paperback), Apple iTunes and iBookstore (audiobook and e-book), Audible (audiobook), Kobo (all e-book formats) Books-a-Million, and Barnes & Noble (Nook e-book and paperback). Ask your bookstore or library to order it for you, if they don't have it. ISBN 9780988234826.

Read about Hot Flashes And Half Ironmans
The author has been there and done that, with lessons learned and sense of humor (usually) intact. She completed her first triathlon at 39 and her first Half Ironman at 40. She has her eye on an M-dot tattoo in 2014.
Read reviews on Amazon and Goodreads.
Read excerpts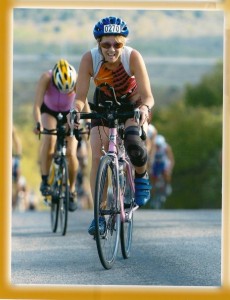 Pamela Fagan Hutchins is an employment attorney and workplace investigator by day who writes award-winning and best-selling women's fiction mysteries (Saving Grace, Leaving Annalise, and others) and humorous nonfiction (How to Screw Up Your Kids, What Kind of Loser Indie Publishes?, and others) by night. She is passionate about great writing and smart authorpreneurship. She also leaps medium-tall buildings in a single bound, if she gets a good running start.
Visit her website http://pamelahutchins.com, or follow her on Facebook http://facebook.com/pamela.fagan.hutchins.author.