Written four years ago, but still good food for thought:
---
When I wrote my first mystery by the seat of my pants, I bought myself a year of heartache by winging it. It took me three more years and three more mysteries before the secret of mystery plotting revealed itself to me: plotting is a deliberate act of research, outlining, and experimentation, done before a writer types her "Once upon a time."
It was a wicked blow for a cliff-jumper, but I survived, because I hate bad writing worse than a lack of spontaneity. Now, when I start a mystery, I sit down with my resident plot-destroying expert, my chemical engineer husband Eric, and we brainstorm scenarios to improve upon my original idea. Here's how we do it:
1. Start with an end and work toward a beginning.
Man, I should have this tattooed on my forehead. Who dies, who kills them, and how our hero(ine) survives to bring the murderer to justice. Write your ending first, at least in your head. Now, how do you get there from page one? Your beginning has to be possible even if highly improbable in order for us to reach the end with you. Eric and I work backwards over and over and over, until we find a storyline that works.
To read the rest of five tips for plotting a mystery, visit Fiction University: Take Your Writing to the Next Level, HERE.
For tips like these and many more, check out my classes on the SkipJack Publishing Online School (where you can take How to Sell a Ton of Books, FREE).
Pamela
Pamela Fagan Hutchins, winner of the 2017 Silver Falchion award for Best Mystery (Fighting for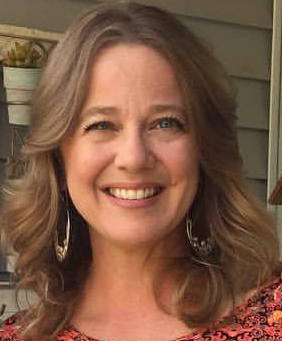 Anna), writes overly long e-mails, hilarious nonfiction (What Kind of Loser Indie Publishes, and How Can I Be One, Too?), and series mysteries, like those in her What Doesn't Kill You world, which includes the bestselling Saving Grace and the 2015 and 2016 WINNERS of the USA Best Book Award for Cross Genre Fiction, Heaven to Betsy and Hell to Pay. You can snag her newest release, Bombshell, if you've already run the rest of the table. She teaches writing, publishing, and promotion at the SkipJack Publishing Online School (where you can take How to Sell a Ton of Books, FREE) and writes about it here on the SkipJack Publishing blog.
Pamela resides deep in the heart of Nowheresville, Texas and in the frozen north of Snowheresville, Wyoming. She has a passion for great writing and smart authorpreneurship as well as long hikes and trail rides with her hunky husband, giant horses, and pack of rescue dogs, donkeys, and goats. She also leaps medium-tall buildings in a single bound (if she gets a good running start).