Recently I had the honor of attending my first Novelists, Inc. conference. It is a "must-attend" annually for me from here out. My head is spinning with ideas and information that will change strategy and tactics for me, in big and small ways. I blogged most recently on the series-promotion strategies I took away from one of David Gaughran's sessions. This week I'm sharing the changes in my publication schedule that I am implementing as a result of a wonderful session by Roxanne St. Claire and Kristen Painter. Both are hybrid authors who are killing it as indies, but were mid-list as traditional authors. Their success is no accident, that is for sure.
Their advice assumes two things. The first: that you know how long it takes you to write a novel. The second: that you can write a very, very good one. Assuming both those things, their strategy is to reduce the time it takes you to write a novel, through strict discipline and hard work, so that, ideally, you can write several in a year. Then, in a nutshell, they advise holding onto your books until you have enough to publish in quick succession. Ideally, thirty days apart. Their careers both changed dramatically when they employed this strategy. It results in a chunk of the year with high income and tapering income over the rest of the year, and it keeps the loyal readers engaged and tickles the ranking algorithms of the big retailers.
Until now, I have published novels as I've written them, and I have averaged two per year, although it has taken me five months to write each (from starting it to publishing it) in sequence. Like most of the authors at NINC, I have experienced tapering sales with the increasing stranglehold on the industry by Amazon's Kindle Unlimited program and their imprint authors, and I've been looking for ways to improve the performance of my novels financially. I'm convinced now I have found it. No more sequence writing and sequence publication. This year's schedule at a very high level (writing and publishing only) look like this:
Month 1: draft novel 1
Month 2: draft novel 2
Month 3: draft novel 3
Month 4: rewrite novel 1/send to betas
Month 5: rewrite novel 2/send to betas/send novel 1 to copyedit
Month 6: rewrite novel 3/send to betas/ send novel 1 to proofreaders/send novel 2 to copyedit
Month 7: promotion and planning/send novel 2 to proofreaders/send novel 3 to copyedit
Month 8: promotion and planning/send novel 3 to proofreaders/
Month 9: publish novel 1/draft novel 4
Month 10: publish novel 2/draft novel 5
Month 11: publish novel 3/draft novel 6
Month 12: publish box set of the 3 novels/rewrite novel 6 (etc.)
I have not shown on this simple schedule the myriad of support activities for publishing, like working on the cover, formatting, newsletters, promotion, and many more. I'm switching to a trilogy format, which is a natural move for me, as this takes readers to completion in this shortened schedule (a key goal to convert readers of novel 1 to readers of novels 2 and 3; completion and conversion percentages for even fantastic series novels is shockingly low when you factor in distractions of every day life and lag time between publication of novels) and allows me to complete my multi-book character arc. NOTE: This is my schedule after attending their session, not St. Claire's or Painter's.
St. Claire and Painter also recommended publishing short stories and novellas as bridge content to keep the ranking algorithms humming, so in my example schedule I could do that in year two while I continue working on novels 4-6. I plan to incorporate writing prequel and epilogue short stories into drafting the novels themselves–start early in the story, end after it ends, and peel those "chapters" off as the shorts. They also opined that their readers seem to prefer slightly shorter books (70-90k words), and that this makes it easier to adhere to a strict schedule than if they were writing War and Peace.
In other NINC sessions, we learned how to effectively use the short stories and novellas as exclusive content for newsletter subscribers prior to publication, and I'll blog more on my revised strategy for use of newsletters soon.
In the meantime, I'm super pumped about my new schedule and will only add that after drafting two novels on a handheld digital recorder for transcription in 2016, I switched back to typing for the next two novels (2017), and I have decided to return to the handheld for first drafts for my 2018 novels. I'll blog on why I'm making the switch soon, as changes in technology and the demand of my schedule are driving me back to it.
Until then,
Pamela
Pamela Fagan Hutchins, winner of the 2017 Silver Falchion award for Best Mystery (Fighting for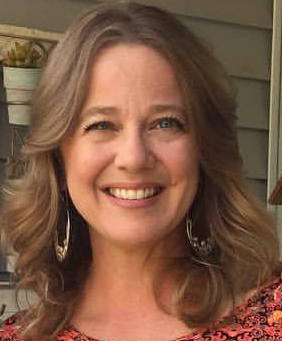 Anna), writes overly long e-mails, hilarious nonfiction (What Kind of Loser Indie Publishes, and How Can I Be One, Too?), and series mysteries, like What Doesn't Kill You, which includes the bestselling Saving Grace (e-book free everywhere) and the 2015 and 2016 WINNERS of the USA Best Book Award for Cross Genre Fiction, Heaven to Betsy and Hell to Pay. You can snag her newest release, Bombshell, if you've already run the rest of the table. She teaches writing, publishing, and promotion at the SkipJack Publishing Online School (where you can take How to Sell a Ton of Books, FREE) and writes about it here on the SkipJack Publishing blog.
Pamela resides deep in the heart of Nowheresville, Texas and in the frozen north of Snowheresville, Wyoming. She has a passion for great writing and smart authorpreneurship as well as long hikes and trails with her hunky husband, giant horses, and pack of rescue dogs, horses, donkeys, goats and whoever else wants to tag along, traveling in the Bookmobile, and experimenting with her Keurig. She also leaps medium-tall buildings in a single bound (if she gets a good running start).